Last Updated on April 16, 2023 by Andrew Pirie
How much can Sprinters Track Spikes improve my 100m sprint time?
Spikes  Make you Faster: Studies show performance improved by 6% with spikes
The purpose of the present study was to quantify trace Spikes for Sprinters' effect on sprint performance in male athletes. They were separating between both cleats and mass effects. Additionally, and analyzed the influence of footwear on biomechanical running parameters. 
In this study, nine male regional-national sprint athletes (i.e., 100, 200, and 400 m distances). They performed three 40 m sprints in a randomized order (i.e., Sprinters Track Spikes, running shoes, and mass-added spikes).
Performance improved 2, by 6% with spikes concerning running shoes, where 1, 7% was due to the cleats, and 0, 9% was due to the mass.
When analyzing the biomechanical variables. And observed that the speed increased because both the step rate and step length also increased. Step length increased, and the contact time decreased due to a combined effect of the cleats and the mass. In conclusion, the sprint performance improved when using Sprinters Track Spikes concerning running shoes; two-thirds of the improvement was due to the cleats and the rest to the shoe's mass (Corbí-Santamaría, P. & Jiménez-Velayos, A. & C, Miguel & Garcia-Lopez, J. (2018).
So in perspective what is 6%? 
12.0 without spikes = 11.28 (maximal with spikes)

11.0 without spikes = 10.34 (maximal with spikes)
I have an article here querying can anyone break 11 seconds for 100m.
The Advantages of spike shoes allow the athlete.
To run more balanced, less wobbling.

Less time spent on the ground making contact

Less energy is wasted when making contact with the ground.
Different Types of Sprinting Track Spikes 
Different Sprinters Track Spikes designs (pin, pyramid, post, Christmas tree, and modified Christmas tree) are all touted for track and field performance; but these claims have not been tested and reported in peer-reviewed literature.
The purpose of this study was to examine how to track spike design impacted energy return on a Mondo track surface.  The load-deformation curves of the spikes driven by a machine into the track surface were determined; the energy absorbed and calculated as the energy returned by each spike.
The modified Christmas tree design generated significantly more energy return on the Mondo track surface than the other spike designs while the pin spike absorbed (and therefore returned).  Significantly less energy than the other spike designs. This information could be useful for athletes and coaches looking to enhance performance on a Mondo track (Bahamonde, R. & S., Jefferson & Goyke, Lance & Myers, Adrian & Mikesky, A.. (2014)
What Sport Science Discovered with

Track Spikes 

and Speed
Countless studies on foot mechanics and performance have been done. But the most effective and simple test is to determine if one runs faster in different shoes. Particularly, the Sprinters Track Spikes models we currently utilize and less expensive alternatives.
Studies include barefoot testing and using various spike plates;  even a variety of music from mild to hard sounds. Options that are "springy" have even been tested; what was discovered was not shocking. However, barefoot running is faster than using Sprinters Track Spikes. and several theories in light of the variables they examined.
The researchers used electronic timing to time the sprints and compare the speeds. They observed the foot's movement in incredible detail; to determine the precise reason for the improvement. The performance was improved by what was discovered regarding the plate's hardness. While some individuals might believe that spike friction's horizontal forces are significant. When athletes can dash across ice rinks at top speed, as demonstrated in Ken Jakalski's film, one must reconsider the importance of such feats.
In 1968 Puma and Adidas were in a spiked war, promoting a brush-style spike with dozens of tiny spikes. The benefit of the number of spikes is negligible. And the real reason they were banned. The rules didn't permit the changes, and the IAAF still bans more than 11 spikes currently.
Do

Track Spikes 

Make you faster: Maximal Velocity Mechanics
Running at maximum speed causes additional vertical forces to be applied to the ground up and down. as opposed to behind the athlete.
We can infer that spikes serve three functions. The first one is evident they are light enough to avoid slowing the leg down as it swings through the air. For the past 50 years, this has not been an issue since the weight hasn't historically been all that heavy.
The research is not limited by the ability to move the legs. Most shoes these days are lightweight, no one intends to compete in construction boots. To help transmit pressures through the track, a hard shoe is also necessary.
Many athletes who visit tracks can gauge the difficulty by dropping the ball and observing how high it returns. A competitive athlete seeks a challenging surface. and a hard spike is subject to the same regulations. Perhaps for training with distance runners, cushioning is beneficial. Hard options prevail in terms of speed, but there is a limit.
Do Track Spikes make you faster: The Spike Test Results.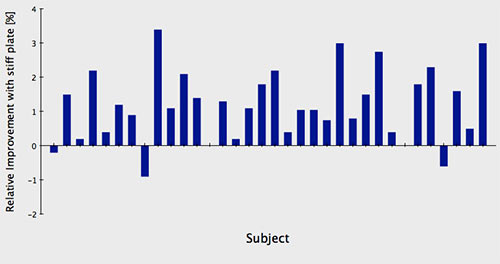 In the study, Increased Shoe Bending Stiffness Increases Sprint Performance.
The researchers concluded that a rigid spike plate is required to increase spike performance, however, not all athletes do so.
Most people increased their speed, while a few marginally improved, and several slowed down. The competitors were then timed during a 40-meter sprint, and the 20–40 m portion was examined.
They discovered that certain athletes performed slightly better when donning more punishing track spikes, particularly those with carbon fiber soles (Glaeser & Valle, 2013).
---
What Spike Length do you need?
Choosing the Right Track & Field Shoes and Replacement Spikes
by Nick Stebenne, M-F Athletic
There are many different considerations when selecting track shoes and replacement track spikes.  Replacement track spikes come in many styles, but the pyramid, needle, Christmas tree, and tartan are the most popular.
A) Pyramid Spikes
Dirt and grass (Cross country mostly). They will not wear down as fast, and they have a good bounce on the track.  The most popular size is ¼".
B) Needle Spikes
– Used primarily on all-weather tracks.  They generate great traction.  The most popular size is 3/16″.
C) Christmas Tree Spikes – Compression spikes.
 They are a mix of bounce (pyramid) and grip (needle).  They usually come in a ¼" size. These are my favorites.  Being a former sprinter, I like the combination of bounce and traction.
D) Tartan Spikes – Normally ¼" dull needle spikes (selected rubber tracks only).
Sprint spikes are incredibly minimal weight in terms of track shoes. Hence A sprinter with more talent might utilize a spike with a smaller heel.
Since a "heel-to-toe" running style is not explosive, sprinters are taught to run on their toes.
Given this, novice athletes who are not used to racing the full race on their toes may easily suffer an injury from sprinter spikes. And I have observed numerous high school runners using these types of spikes to roll their ankles.
In addition, I would advise a beginner runner to get spikes with a bigger focus on safety.
Distance spikes and middle distance spikes are typically sturdier shoes that fit the foot more comfortably.
Although they do tend to be a little heavier than sprinting shoes and do have a larger sole.
---
Are soccer cleats better than flats for sprinting on a running track?
Unless the track is turf grass/or loose dirt, then no. You would not wear soccer cleats, and most tracks would forbid you from doing so.
These are Sprinters Track Spikes:
These are soccer cleats.
Take note of the striking difference. Soccer cleats are not permitted on any crushed clay surface or synthetic running surface. On asphalt tracks, though, you would not wear spikes or cleats.
Clay or crushed synthetic materials provide good tracks. Turfgrass surfaces are the only ones for which soccer cleats are intended.
Then there are special artificial turf soccer cleats that are (slightly) smaller. On a running track, you wouldn't wear either, though.
Also, running spikes do not have cleats at the rear as soccer cleats do.
Even though sprinting is done on the forefoot, having those cleats in the back might complicate matters for a sprinter on a track.
Therefore, if you have to choose between running flats and soccer cleats, go with the former.
---
It Depends on the Running Technique
If you want a detailed response, it depends on how you run.
Some people's feet strike the ground quite steeply, which requires less grip than feet that strike the ground horizontally.
To run significantly faster without adding weight, sprint spikes are much lighter than other types of footwear, such as running shoes.
The grip plays a bigger role in acceleration than the weight does. The weight has a greater impact than the grip at high speed.
I am unable to specify how much faster because it depends on your running style, speed, and existing footwear. However, spikes will significantly increase your speed and give you a secure hold on the slick track surface. This is quite helpful, especially in the rain.
They are worthwhile to purchase, however, the quality of the spikes varies greatly. The cheapest spikes would significantly improve on running shoes, while the priciest spikes wouldn't improve on inexpensive spikes as much.
I would recommend getting some cheap spikes online if you can find a website that sells last season's spikes. Running Shoes, Clothing, and Accessories | Start Fitness is the place to go in the UK- you can get a decent pair of spikes for £10–15 (less than $20). There will probably be an equivalent in your country, too, if you aren't from the UK.
You can also get middle-distance spikes- their main difference is that they have small cushioning on the heel. Sprint spikes don't have any cushioning because the heel doesn't touch the ground during a sprint, but the speed difference is negligible. So middle-distance spikes would be suitable too!
REFERENCES:
Bahamonde, R. & S., Jefferson & Goyke, Lance & Myers, Adrian & Mikesky, A.. (2014). ENERGY RETURN OF DIFFERENT SHAPES OF TRACK SPIKES. https://www.researchgate.net/publication/304943986_ENERGY_RETURN_OF_DIFFERENT_SHAPES_OF_TRACK_SPIKES/citation/download
Corbí-Santamaría, P. & Jiménez-Velayos, A. & C, Miguel & Garcia-Lopez, J. (2018). Biomechanical analysis of spikes shoe´s effects on the sprint performance of male sprinters. RICYDE. Revista internacional de ciencias del deporte. XIV. https://www.researchgate.net/publication/325578945_Biomechanical_analysis_of_spikes_shoes_effects_on_the_sprint_performance_of_male_sprinters/citation/download
Glaeser, C., & Valle, C. (2013, October 29). How much do track spikes improve times in the sprints? – Freelap USA. Freelap USA. https://www.freelapusa.com/how-much-do-track-spikes-improve-times-in-the-sprints/
SHARE THIS ARTICLE
LIKE OUR FACEBOOK PAGE

"In 2020, Andrew advanced to the position of Vice President with the Association of Track and Field Statisticians, having devoted seven years as an active member. His impressive track record includes roles such as a PSC Consultant and Research Assistant (2013-2015) and a distinguished stint as a Sprint Coach and Consultant at the renowned Zamboanga Sports Academy (2015-2017). Today, he offers his expertise as a Consultant Coach with VMUF, starting from 2021.
A recognized voice in the sports community, Andrew is the Chief Editor of Pinoyathletics.info. Additionally, his consultancy contributions to Ayala Corp in evaluating their Track and Field Program underline his deep domain knowledge.
Proficient in coaching sprints, middle-distance races, and jump events, Andrew boasts a Level 3 Athletics Australia Coaching Certification, specializing in Sprints and Hurdles. He is also on a progressive journey towards obtaining a Masters Degree in Education.
For further insights or inquiries, connect with Andrew at [email protected]. For detailed coaching resources and Andrew's methodology, visit Pinoyathletics Coaching."