POC 2020
POC / PSC 2020 Click here for news and updates

Below is a collection of the Philippines Sports Commission (PSC) Updates for the Year 2020. You will also find information and news on POC, NSA's, and the DEPED here.
PSC sends home foreign coaches
June 2, 2020
Sports commissioner Ramon Fernandez stressed that foreign coaches with expired contracts would no longer be renewed after they suffered a massive reduction in their fund from the national sports development program.
First to let go was the Chinese mentor of the national diving team after her contract lapsed on 31 May. Xiaofeng Cui, who won gold medals for China in the Asian Games during her prime, already packed her bags with the PSC making her travel arrangements for Chaozhou City in Guangdong. It was confirmed with the President of PSI in which diving falls under that is verified.

Other national squads who employ foreign coaches are Karatedo, fencing, wushu and athletics.

In several conversations with PSC Commissioner Ramon Fernandez. It was informed even a year ago only coaches who have Olympic qualifiers would be renewed by the PSC.

 usual P120 to P150-million monthly share from the income of the Philippine Amusement and Gaming Corporation was reduced to only P9 million in April following the directive of President Rodrigo Duterte to stop gaming operations nationwide due to the implementation of enhanced community quarantine.
---
PSC CUT ALLOWANCES OF ALL ATHLETE AND COACHES BY 50%
Very good writeup by Joey Villar, after I breadcrumbed after his twitter updates.
In Summary PSC (Philippine Sports Commission) hard times call for hard measures as the coffers dry up
In light of athletes now being given 20% discounts by the government

Pay of athletes as of June 1 is slashed by 50%

Some Foreign Coaches whose contracts expire June 1 will not be renewed




Events such as

Batang Pinoy

Philippine National Games

and ASEAN Para Games among other projects.

They could, however, console themselves with the fact they would receive discounts on

goods

medicine

transportation

services

from restaurants

hotels

movie theaters

while establishments that will grant discounts will, in turn, receive tax relief.

https://www.philstar.com/sports/2020/05/29/2017386/national-athletes-and-coaches-enjoy-20-discount-goods-face-cuts-allowances
POC PSC: Fund Cuts
April 30, 2020
From their budget to the training of the athletes to the conduct of their programs, the PSC is being made to adjust like in no other time in the past, said Mr. Ramirez. Due to COVID-19. 
**Perhaps upon further analysis if the budget is lacking to pay staff and athletes. The PSC must use this as an opportunity to do some house cleaning. It should remove
Athletes who did not get a medal at SEA Games 2019. I mean 1.4 BN was spent on athletes allowances alone. And the fact support and financing were giving to athletes more than any other time in the past since the PSC was founded in 1990 and that the SEA Games 2019 hosted. Means athletes benchmark should be "AT LEAST A bronze medal at a lower level international meet such as the Philippines 2019 SEA Games. This would still provide quite a large pool of athletes after the Philippines had garnered a total of 387 medals, the number further bolstered by team and relay events.

Coaches who failed to even provide a bronze medal at the 2019 Philippines SEA Games. Should be immediately dropped from the payroll whether foreign or local. The benchmark should be higher for foreign coaches if they are paid more with a minimum of a gold medal or be dropped off the payroll. 

An athlete should only be allowed to nominate one coach without pressure in a neutral environment. It is redundant to pay multiple coaches for one athlete unless their specific role is something assigned such as strength and conditioning coach.

Regarding Point 2 there should be special consideration if the athlete failed to medal at SEA Games but medalled at a higher level meet in the last few years.


Those athletes being developed who have not medalled at international meets should be allowed to stay in dorms, use facilities for free and perhaps have food and travel exemptions without an allowance.
SAFETY FIRST. Philippines Sports Commission (PSC) Chairman William Ramirez (2nd from left) announces postponement of major sports activities to safeguard the athletes against novel coronavirus during a press conference at the Rizal Memorial Sports Coliseum on Thursday (Feb. 6, 2020). Among the deferred events are National Sports Summit, Philippine National Games, Batang Pinoy, and Children's Games. Also in photo are (from left) PSC commissioner Ramon Fernandez, Philippine Paralympic Committee president Michael Barredo, Commissioner Arnold Agustin, Charles Raymond Maxey, and PSC Board Member Stephen Fernandez. (PNA photo by Jess M. Escaros Jr.)

Points made 

1. From the P900 million approved GAA budget this year, where the PSC gets money for the salary of its employees and other operating expenses, it has been reported that it is set to be slashed by more the 50%.

2. Compounding the PSC's budget woes is the prospect of money coming from Pagcor being delayed, or worse stop coming in altogether.

As casino operations remain shut because of the coronavirus, with the government prohibiting mass gatherings as part of mitigating measures.

PAGCOR money is what is used to pay the athletes and coaches.

3. With concerns over the budget, the PSC has moved to cancel its scheduled events and programs till December, affecting activities like the Batang Pinoy, Philippine National Games, Indigenous Games, and Women's Games, among others.

4. As to the salaries of regular employees of the PSC, Mr. Ramirez said it is taken care of as it falls under the GAA.

5. However, those that are under contractual or job offers may face problems.

6. "Training will be adjusted. In partnership with the POC's Committee and the national sports associations we will try to come up with a comprehensive program where coaches can go online and make virtual presentations for the athletes," said Mr. Ramirez.





POC PSC No Sporting Events until December

April 30, 2020

The 

Philippine 

Sports 

Commission 

(PSC) 

is 

receiving 

orders 

from 

Malacanang 

this 

year 

to 

cancel 

all 

sports 

events. 

And 

instead 

will 

emphasize i

ts 

the budget

on 

various 

pending 

commitments 

as 

the country

decides 

to 

fight 

the 

spread 

of 

coronavirus.

The 

sports 

agency 

further 

announced 

that 

all 

events in conjunction with

the 

regulations 

will 

be 

canceled

until 

December 

of 

this 

year.

"We heed the call of the national government," said Ramirez. "To cut expenses as we reroute majority of our resources to fighting the pandemic, but we also stand by our commitment to keep supporting members of the national teams."

The 

PSC, 

chaired 

by 

Butch 

Ramirez, 

agreed 

in 

a 

virtual 

meeting 

on 

Wednesday 

to 

forego 

all 

local 

competitions 

and 

one 

international 

competition. 

This 

is to 

ensure 

it 

can 

preserve 

its 

contribution, 

including 

aiding 

national 

team 

members.




POC Boss Bambol says no sports events for the Philippines likely for 2020
April 28, 2020
POC President Abraham "Bambol" Tolentino can't see any more major sporting events in the Philippines for the rest of 2020. However, believes the training for Olympic bound athletes which will now be in 2021 will push through.
Bambol Tolentino

"I doubt if we can still hold (sports) events for this year,'' said Tolentino.
No Sports Events  for the Philippines and a new normal
Due 
to 
the coronavirus 
(COVID-19)  p
andemic, 
popular 
annual 
tournaments 
of 
national
level s
uch 
as 
the 
Palarong 
Pambansa, 
Philippine 
National  
Games 
and 
Batang 
Pinoy 
Games 
have 
been 
shelved 
indefinitely 
so 
"There will be a new normal once this is over and we'll see how our sports activities will fit in,'' added the Cavite congressman and PhilCycling head.
tickets 
to 
the 
Tokyo 
Summer 
Games 
while 
62 
more 
18-sport 
Filipino 
athletes 
are 
set 
to 
join 
in. 
The 
only 
thing 
which 
can 
proceed 
consistently
said 
Tolentino
is 
the 
training 
of 
athletes 
who 
already 
qualified 
for 
the 
rescheduled 
Olympics 
in 
Tokyo 
from 
July 
23 
to 
August 
8, 
2021.
"I'm expecting that our athletes, especially those who made it, will prepare hard to be in peak form for the Olympics,'' said Tolentino.

"As for those who have yet to qualify, I know they will find ways to seize the opportunity and secure an Olympic spot,'' he added.

http://gty.im/587122478
Rio 2016 Olympics silver medalist lifter Hidilyn Diaz, skateboarders Margielyn Didal, judoka Kiyomi Watanabe, boxers Nesthy Petecio and golfers Miguel Tabuena,Yuka Saso, and Dottie Ardina are also hunting towards slots to the Games. 
As can be seen, by the rescheduling of qualifying competitions in all sports, Filipino Olympic hopefuls have the benefit of time to boost their qualification.
Source:
---
PSC 2020 FAST FACTS: Philippines 2019 SEA Games venues convert into quarantine centers
From hosting the SEA Games 2019, these venues will be used to test and treat coronavirus-positive patients in the Philippines
As of Thursday, April 2, the Ninoy Aquino Stadium (NAS), World Trade Center (WTC) and Philippine International Convention Center (PICC) were the first 3 venues converted to accommodate patients from Manila, Makati and Pasay area.
PSC 2020 Some PH athletes left behind amid PSC lockdown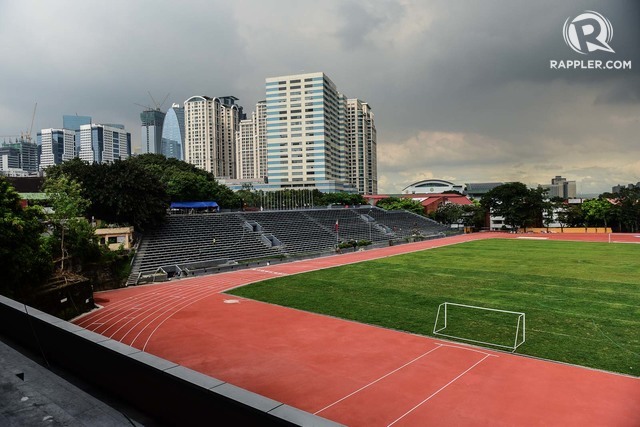 MANILA, Philippines – Even after an ordered lockdown on government sports facilities, the Philippine Sports Commission (PSC) will continue to look after the national athletes and coaches who were left behind.
A total of 28 athletes, 4 Filipino coaches, and 2 Korean coaches – from fencing, boxing, athletics, and 6 para-sports – were unable to secure tickets back to their home destinations, prompting the government sports agency to accommodate them.
According to PSC dormitory manager Roselle Destura, the athletes and coaches will remain billeted at the PSC dormitories in the Philsports Complex in Pasig City.
---
PSC 2020 PH athletes evacuate dorms as PSC restricts facility access
The Philippine Sports Commission orders national athletes to go home as it places sports facilities on restricted access amid the coronavirus pandemic
Except for the athletes still preparing for qualifying tournaments for the Tokyo 2020 Olympics, all national team members in senior and junior levels have been ordered to go home as all dormitories need to be vacated as part of the PSC's prevention plan.
PSC declared its two majors facilities – Rizal Memorial Sports Complex (RMSC) in Manila and the Philsports Complex in Pasig – under restricted access.
"We have to be pro-active in this situation and take these hard decisions for the safety of our athletes and employees," said PSC chairman William "Butch" Ramirez during the management committee meeting on Thursday, March 12.
Some of the national team members billeted in the dormitories are from boxing, weightlifting, muay, athletics, fencing, and Paralympic sports.
---
PSC 2020 POC urges NSAs to take precautions
MANILA, the Philippines — The POC's Committee, the highest sports governing body in the country, is one with the government in the need to implement precautionary measures amidst the novel coronavirus menace.
Concerned with the safety of everybody, the POC urged all national sports associations and groups associated with them to heed the call for prudence and await official announcements from appropriate agencies with regards to the issue.
"The POC stands behind the government in its precautionary measure of advising everyone to desist from organizing, participating or attending events where big crowds are expected," said POC president Abraham "Bambol" Tolentino in a statement yesterday.
As advised by no less than President Duterte himself, the Philippine Sports Commission had called off the Philippine National Games, the national sports summit and all its children's games while giving the recommendation that led to the 10th ASEAN Para Games being reset to a still unspecified date.
"The PSC's parallel declaration canceling or suspending sports activities in order to mitigate the possible spread of the novel coronavirus in the country is also shared by the POC," said Tolentino.  "We must always put the safety of athletes, coaches, officials, and spectators at the very top of our priorities." 
PSC 2020 Call for sobriety
SPORTING CHANCE – Joaquin M. Henson (The Philippine Star) – February 11, 2020 – 12:00 am
Above all the suggestion by the Trade Union Congress of the Philippines to reprimand Capas Mayor Rey Catacutan for objecting to the use of the Athletes Village in the New Clark City as a quarantine zone should be withdrawn.

PSC 2020 CSC eligibility for athletes pushed
THE Philippine Sports Commission (PSC 2020) is discussing with the Civil Service Commission (CSC) to give national athletes the chance to acquire professional and sub-professional eligibility.
CSC eligibility is one of the requirements for those who want to pursue a career in any government agency.
Sought for comment, national athlete Mary Joy Tabal said this is a great Development for them since they will not be athletes forever. The eligibility will give them another career path after calling it a career.
"It's a good program. Athletes will make better public servants because of the discipline and dedication we have for our work and for the country," the 2016 Rio Olympian said.

PSC 2020 No rest for nat'l pool athletes
After wrapping the flag around themselves. When Team Philippines won the overall title at home in the recent 11-nation Southeast Asian Games Athletes belonging to the national training pool can now relax and rest up, right?
Wrong!
The elite group belonging to the national team program is under orders to keep in shape. And then report to the front lines when the Philippine National Games (PNG) unfurls in late May. At the refurbished Rizal Memorial and PhilSports complexes in Manila and Pasig.
Philippine Sports Commission Chair William Ramirez has formed a national committee. Led by executive director Merly Ibay and her deputy, Guillermo Iroy. To lock plans for the PNG and the Batang Pinoy meets this year.
As is customary, priority athletes have to show up for the PNG.
And are expected to win their assignments or eclipse their own records.
Since each is paid a tidy sum ranging from P10,200 to P45,000. The nationals have excellent attendance in the PNG.
But PNG commissioner Celia Kiram warns athletes. Who don't see action. That they "run the risk of being dropped from the roster and face the possibility of being replaced."
Why does the Philippines with a population of more than 100M is unable to get majority of the medals in South East Asian Games?
It brings back moments as to when Sports Leaders were flabbergasted when POC President Ricky Vargas stated that despite improvements the Philippines was not favored to rule the SEA Games despite being the hosts and getting a lot of say in the final composition of events.
If we look at our previous SEA Games results in all sports 
Vargas and Co have a lot to be concerned about 2019 SEA Games
For PSC Articles Older than 2020