Ernest Obiena
Obiena Starts Season at Trieste
Ernest Obiena had his first jump of 2020 with a 5.45m Leap at the 13th Trievneto International Meeting in Trieste Italy with a 5.45m jump. He took second place behind his training partner defending Olympic Champion Thiago Braz of Brazil who registered 5.50m.  Obiena and Braz are coached by the legendary Vitaly Petrov (who mentored Sergey Bubka). 
Obiena is the only Filipino Track and Field athlete so far to qualify for the 2021 Tokyo Olympics with a 5.81m leap he is one of 21 athletes who have qualified outright for 32 slots. He is also the reigning World University Games and Asian Champion in Pole Vault. SEA Games Champion, SEA Record Holder and SEA Games Record Holder.
Obiena next meet will be the Diamond League at Monaco on August 14.
*Please note any media wishing to use this or any articles on our website must provide a citation to Pinoyathletics.
| | |
| --- | --- |
| Final | Stadio Giuseppe Grezar – 01 August 2020 – Start Time: 18:30 – End Time: 20:20 |
Pos.
Bib
Athlete
Year
Cat.
Mark
Points
1
102
BRAZ Thiago
1993
M
 BRA BRAZIL
5.50

| | | | | | | | | | | | | | | | | | | | | | | | | | | | | | |
| --- | --- | --- | --- | --- | --- | --- | --- | --- | --- | --- | --- | --- | --- | --- | --- | --- | --- | --- | --- | --- | --- | --- | --- | --- | --- | --- | --- | --- | --- |
| 4.70 | 4.90 | 5.05 | 5.15 | 5.25 | 5.35 | 5.45 | 5.50 | 5.55 | 5.60 | 5.65 | 5.70 | | | | | | | | | | | | | | | | | | |
|   – |   – |   – |   – |   – |   – |   – |   XXO |   – |   – |   XX- |   X | | | | | | | | | | | | | | | | | | |

2
107
OBIENA John Ernest
1995
M
 PHI PHILIPPINES
5.45

| | | | | | | | | | | | | | | | | | | | | | | | | | | | | | |
| --- | --- | --- | --- | --- | --- | --- | --- | --- | --- | --- | --- | --- | --- | --- | --- | --- | --- | --- | --- | --- | --- | --- | --- | --- | --- | --- | --- | --- | --- |
| 4.70 | 4.90 | 5.05 | 5.15 | 5.25 | 5.35 | 5.45 | 5.50 | 5.55 | 5.60 | | | | | | | | | | | | | | | | | | | | |
|   – |   – |   – |   – |   O |   – |   XO |   – |   XX- |   X | | | | | | | | | | | | | | | | | | | | |

3
105
MANDUSIC Max
1998
M
 ITA ITALY
5.35
TRIESTE ATLETICA

| | | | | | | | | | | | | | | | | | | | | | | | | | | | | | |
| --- | --- | --- | --- | --- | --- | --- | --- | --- | --- | --- | --- | --- | --- | --- | --- | --- | --- | --- | --- | --- | --- | --- | --- | --- | --- | --- | --- | --- | --- |
| 4.70 | 4.90 | 5.05 | 5.15 | 5.25 | 5.35 | 5.45 | 5.50 | | | | | | | | | | | | | | | | | | | | | | |
|   – |   – |   O |   O |   – |   XO |   XX- |   X | | | | | | | | | | | | | | | | | | | | | | |

4
108
RENNER Robert
1994
M
 SLO SLOVENIA
5.25

| | | | | | | | | | | | | | | | | | | | | | | | | | | | | | |
| --- | --- | --- | --- | --- | --- | --- | --- | --- | --- | --- | --- | --- | --- | --- | --- | --- | --- | --- | --- | --- | --- | --- | --- | --- | --- | --- | --- | --- | --- |
| 4.70 | 4.90 | 5.05 | 5.15 | 5.25 | 5.35 | | | | | | | | | | | | | | | | | | | | | | | | |
|   – |   – |   O |   – |   XO |   XXX | | | | | | | | | | | | | | | | | | | | | | | | |

5
103
DE ANGELIS Ivan
2001
M
 ITA ITALY
5.15
G.A. FIAMME GIALLE

| | | | | | | | | | | | | | | | | | | | | | | | | | | | | | |
| --- | --- | --- | --- | --- | --- | --- | --- | --- | --- | --- | --- | --- | --- | --- | --- | --- | --- | --- | --- | --- | --- | --- | --- | --- | --- | --- | --- | --- | --- |
| 4.70 | 4.90 | 5.05 | 5.15 | 5.25 | | | | | | | | | | | | | | | | | | | | | | | | | |
|   – |   XO |   – |   O |   XXX | | | | | | | | | | | | | | | | | | | | | | | | | |

6
104
MADRASSI Matteo
1999
M
 ITA ITALY
4.90
ATLETICA MALIGNANI LIBERTAS UD
7
106
MIANI Matteo
1993
M
 ITA ITALY
4.70
ASSINDUSTRIA SPORT PADOVA
109
SINNO Alessandro
1994
M
 ITA ITALY
NM
C.S. AERONAUTICA MILITARE
---
Pinoyathletics Exlcusive Media Partner on August 17 for Who is the best Vaulter online event? Livestreamed on
www.facebook.com/pinoyathletics
Ernest Obiena Competes
Aug 14 Diamond League Monaco

Aug 17 Who is the best Pole Vaulter? Online Challenge
"Who is the FINEest Pole Vaulter in the World" Competition
Talking Points
 I am very excited to be one of the participants in "Who is the FINEest Pole Vaulter in the World"
competition, which is organized and sponsored by Fine Hygienic Holding, the leading wellness
group in the Middle East and North Africa region.
 The timing of the competition is just right.
Just like everybody else in this world, I have been affected by the COVID-19 pandemic and as a
result of that lots of major sports events have been postponed like the Tokyo Olympics.
 Earlier this year, Fine launched its Fine Guard face mask that is protected by a Swiss technology
called Livinguard, which kills germs including Coronavirus, and when the company felt the need
for sports people to stay protected while exercising and competing, it has developed a special
sports face mask. It's made from comfortable and very easy to breathe through material that
incorporates the same innovate technology. It can be washed and reused, and it remains
effective in killing viruses for one year. This also helps preserve the environment!
 It's true that the pandemic has impacted almost all aspects of life including sports but people
are hungry for sports events, in particular live ones, and Fine is giving fanatics across the globe
the chance to watch pole vaulters as they compete live without any fee while sitting at home.
 The pandemic can bring us down, and what Fine is doing is motivating people and encouraging
them to keep their spirits up. On a personal level, this competition is a great booster and it's an
excellent platform for me to actually compete and prepare for the upcoming sports event
(mention name of competition), let alone the fact that we are going to get a monetary prize.
 I will be competing against another two world champs. It's not going to be easy but I am all up
for it.
 The first-place winner will receive $ 20,000 and this is a generous amount. Second and third
places will get $ 15,000 and $ 10,000 consecutively.
 One final message I would like to give is that we all need to be strong. This pandemic is a
universal thing. We need to stay hopeful, find opportunities amidst challenges and never give
up.
 I encourage you all to watch this competition on August 17 at 9 am US Eastern Standard Time.
Visit finestvaulters.com to learn more and stay tuned!
---
Ernest Obiena wants to join all Diamond League Meets
Our Track Talk Tuesday had 28 Participants.  
We asked Ernest John Obiena. About what competitions he would be joining in spite of the COVID delays.
"I would like to join all of the Diamond League meets as all of the top guys are on the circuit. And that's who I need to compete against to get better" -EJ Obiena.
He will be competing on August 14, at the Monaco Diamond League. And looks to compete at meets until October.  Pinoyathletics very own 'Professor' Airnel Abarra. Will be covering the Monaco Diamond League.
---
---
Pinoy Athletics Track Talk Tuesdays with Universiade, SEA Games Champion, and Olympic-bound Pole VaulterErnest John "EJ" Obiena.
Time:

May 26, 2020 02:00 PM Philippine Time.
2019 Napoli Universiade (World University Games) Champion Pole Vault Men
First Filipino athlete to qualify for the 2021 Tokyo Olympics
2019 Southeast Asian Games Champion Pole Vault Men
Topics:
1. Experience as a world-class Filipino Pole Vault Athlete.
2. Notes in being an athlete in a global environment with a local perspective.
Hosts:
PhD Student- Doctoral School of Sport Sciences,
University of Physical Education, Budapest, Hungary
Co-founder of Pinoy Athletics
Prof. Geraldine Go-Bernardo
Head- Sport Management Council of the Philippines
How to register/join:
Download and sign-up Zoom Meetings:
Also available on Google Play (Android) and iPhone
Links:
Meeting ID: 818 0057 4186
Meeting ID: 818 0057 4186
A certificate of participation will be provided after the conference upon request.
Join the Facebook group: PinoyAthletics
Like the Facebook page: Pinoy Athletics
Profile:
Born: 17th November 1995

College: the University of Santo Tomas (previously Ateneo De Manila)

Coach: Vitaly Petrov and Emerson Obiena

Philippine Team 2014 Onwards
Ernest John Obiena is Filipino Pole Vaulter. He holds all four major national Pole Vault records. He has broken the Philippine National Record 16 times. Also holding the National Record at 5.71m and the National Indoor Record at 5.40m, Also holding the National Junior Record 5.21m, and National Junior Indoor Record at 5.00m. He also holds the Asian Athletics meet record and SEA and SEA Games Records also.
Also, Ernest John Obiena is the first Filipino that has been given a scholarship from the International Athletic Association Federation (IAAF).
Sporting career
Obiena's father, Emerson serves as his coach. Also formerly served as the former Athletics national team member.
In early 2014, for three months, Obiena with his father was given an opportunity to train under coach Vitaly Petrov in Formia, Italy. First of all, Vitaly had previously coached Sergey Bubka. As a result of this on July 20, 2014, at the PATAFA weekly relays held at the PhilSports Football and Athletics Stadium. Hence Obiena broke the national record for pole vault by registering 5.01 meters. The previous record was 5.0 meters by Edward Lasquete at the 1992 Summer Olympics in Barcelona, Spain. Consequently, the junior national record was also broken, since Obiena at that time is 18 years old. While the previous record was 4.31 set three years ago.
Most noteworthy he later broke his own record several times in 2014 alone (5.05, 5.05, 5.15, 5.20, 5.21). Hence by the time Obiena became ineligible for the national junior record, the record was 5.21 which Obiena set himself.
Therefore in the 2015 Southeast Asian Games, Obiena won a silver medal with a leap of 5.25 meters, that time his' personal record. In addition, Obiena won a gold medal in the 2016 Philippine National Games Finals in Lingayen, Pangasinan after breaking a new personal record (5.47 meters). While having problems with a broken pole.
EJ set a new Filipino Record in Singapore Open 2015.
The Big Highlight came through when Obiena leaped 5.50m to capture the Bronze medal for the Philippines at the Asian Championships. The first medal to ever be won for the Philippines in the Pole Vault at Asian level. At Leuvesken, Germany he increased the Filipino record again to 5.61m. This mark was just 9cm off the Olympic 5.70m qualifying mark. EJ who just missed out on 2016 selection, will be 24 when the 2020 Olympics in Tokyo roar around.
---
Article
I am a filipino vaulter who has a dream to become a world class athlete. I am currently the National Indoor record holder and i have equalled the highest vault of a filipino which is 5.00 meters. I am aiming to qualify and join the World Juniors Championship this coming July in Eugene, Oregon
Hi! I am Ernest John Obiena 18 years old. I am from Manila, Philippines. My Goal is to Qualify for the upcoming World Juniors Championship. While under my father's supervision, I was able to clear 5m in Nan-tou International Pole Vault Championship this year. Also, I placed 7th out of 26 competitors, which came from Taiwan, Malaysia, USA, China, Japan, Australia, and Thailand. Consequently, my performance set a new record both for the National Junior indoor Record and National Men Indoor Record.
While my goal is to clear 5.05m officially before July 2014 to be the first homegrown Filipino to qualify and represent our country in the World Juniors Championship in Eugene, Oregon USA.
Since usually we are sending "token athletes" in the World Junior Championship because we have not yet hit the qualifying standard. Because my Personal Record as of now is 5.00m, which is just 5cm (2") of the standard set by the World Juniors Championship committee.
Also, I had been clearing this height at times during training. Because I have to do it officially in an IAAF recognized competitions and clear 5.05 officially.
Hence Since June 2013 up to present the only Track Oval with pole vault facility (Pasig, Ultra) in metro manila is not available for use. Due to ongoing renovations. First of all we are blessed to have someone who helps us get pass thru this crisis like Mr. Misael Perez and Mr. Ricky Palou of Ateneo, Fr. Ermito de Sagon OPD, Mr. Manny Calipes and Mr. Joey Lao of UST, Mr. Anthony Dee of Dee Hua Liong High School and others to train in their facilities. Because of this Pole Vaulting was able to continue and progress.
Furthermore, on January 12, 2014, I met the World Record Holder in my event, which is Mr. Sergey Bubka. Mr. Bubka said the I should apply for the Olympic B project that the IAAF is offering for athletes like me. Also, he encouraged my coach/father to join so that he could learn more and continue my training after the program in Italy. Hence with God's blessing, I was able to clear 5m, Became I was eligible for the program, and was offered a 90 days scholarship to train in Formia, Italy. While unfortunately my coach/father has to shoulder all his expenses in joining me.
Consequently, the program offered by the IAAF would be a big help for us to prepare for the upcoming World Juniors Championship. And we can apply the additional knowledge we learned and help improve Pole Vaulting furthermore in our country. Also, I am humbly asking for your generosity by helping us to save money for my father/coach's Plane Ticket, Accommodation, Food, and Transpo. Consequently, The total amount (7300) will cover the 90-day of stay in Formia, Italy under Vitaly Petrov the coach of Mr. Sergey Bubka.
First of all this Opportunity is very rare and I am most grateful that I was picked among others to join this program. Also, this would help me accomplish my goal to represent my country in world-class competition.
Thank you very much for reading.
MORE ARTICLES ON EJ OBIENA ARCHIVE
ERNEST JOHN Obiena Performance Progress
Performance Event Placing Year
5.61m Leuveksen, Germany 4th 27-Jul-17

5.55m Singapore Open 1st 19-Apr-16

5.50m National Open, Pasig 1st 9-Apr-16

5.47m PNG, Pasig 1st 14-Mar-16

5.40m  Asian Indoor, Doha, Qatar 4th  (National Indoor Record) 20-Feb-16

5.46m UAAP, Pasig 1st 18-Feb-16

5.45m Weekly Relays, Pasig 1st 27-Sep-15

5.40m Thailand Open, Rangsit 1st 7-Sep-15

5.30m International Busan June-15

5.25m Taipei Open, 2nd 15-May-15

5.21m Weekly Relays, Pasig 28-Apr-2014

5.20m Singapore Open, 2014

5.15m Weekly Relays, Pasig

5.10m Weekly Relays, Pasig

5.06m Weekly Relays, Pasig

5.05m Weekly Relays, Pasig

5.01m Weekly Relays, Pasig

5.00m Taipei indoor 7th 26-Mar-14

4.95m Weekly Relay 1st Sept 28,2013

4.90m Thailand Open 2nd Sept 3-6,2013

4.90m Hong Kong 1st June 29-30,2013

4.90m Singapore Track & field series 1st Feb. 15-16, 2013

4.75m Singapore open 2nd June 15-16, 2013

4.54m PNG 1st May 28-June2, 2013

4.50m Uaap 1st Dec. 4,2012

4.45m Weekly Relay 1st 24-Nov-12

4.42m FCAAF 1st February 16-17, 2012

4.41m MTaipei indoor 2nd March 27,2012

4.31m FCAAF 1st April 4-5,2012

4.20m Weekly Relay 1st 2011

4.05m Asean School Singapore 7th July 1-7, 2011

3.70m Palarong Pambansa 2nd 27-Apr-11

4.00m Taipei indoor March ,2011

3.20m Palarong Pambansa 2nd April 11-17, 2010

3.00m Nantou , 2009 (first international meet)
Photo Gallery:
Olympics: Ernest Obiena trains in Italy despite COVID-19 threat
Pole vaulter EJ Obiena, one of the Filipino athletes who already qualified for the 2020 Tokyo Olympics, is on track with his training in Italy despite the continuing threat of the coronavirus pandemic.
Italy is one of the COVID-19 hotspots with over 4,000 deaths due to the virus.
Fortunately, Obiena has located hundreds of miles away from the badly hit northern Italy.
https://news.abs-cbn.com/sports/03/21/20/olympics-ej-obiena-trains-in-italy-despite-covid-19-threat
---
'Nerve-wracking': No Tokyo 2020 Olympics build-up yet for EJ Obiena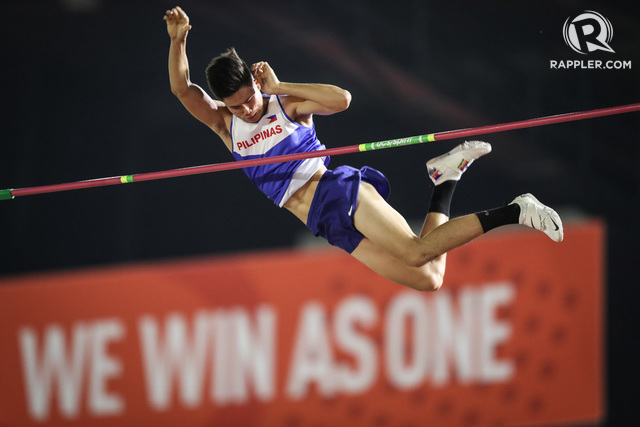 MANILA, Philippines – The escalating coronavirus pandemic has greatly affected the Tokyo 2020 Olympics preparations of Filipino pole vaulter EJ Obiena. With the cancelation of several sports events.
"It's a bit nerve-wracking [since I] haven't been able to compete, but we have contingency plans if things do go south," Obiena told Rappler.
.
The dream that matters most for Ernest John Obiena
"My target in Tokyo is gold. Not impossible, but very difficult,''. Obiena told the Inquirer during a break in training with renowned Ukranian coach Vitaly Petrov in Formia, Italy.
The 24-year-old son of the Philippines' former pole vault idol Emerson Obiena. Dreamed of victory in the 2019 Asian Athletics Championship in Doha, Qatar. It came true.
Shortly after, another gold came at the 2019 Summer Universiade in Naples, Italy, with a new national record of 5.76 meters.
Just two months after the Universiade, Obiena secured the Tokyo berth by clearing 5.81 meters and surpassing the qualifying standard of 5.80 by a hair. So to speak, in a tournament in Chiara, Italy, last Sept. 3.
.
'
Pinoyathletics Male Athlete of the Year
For the second year in a row, The Tall Skinny Guy Ernest Obiena – EJ Obiena has run off with the most coveted MVP award the Pinoyathletics athlete of the year. Forget the PSA Sports Writer awards we actually do our research. In addition, Ernest Obiena's achievements might not fit on one screen. Olympic Qualifier, SEA Record, SEA Games Record, SEA Games Gold, World University Games Champion, Asian Champion, Asian Championship meet record, National Record, Qualified and competed at worlds.
In conclusion a tough decision due to the high number of Golds and National Recordset in Men's. However, EJ as the only Olympic qualifier and with two major titles seems like the most logical choice.
In addition, Fil-Heritage athlete Willie Morrison who set a new Phi Record in the Shotput, and won the first SEA Games Gold in Shotput in the events history was runnerup. Morrison whose PB is 20.40m is aiming to better the 21.10m standard for the Tokyo Olympics. 
Therefore, Veteran Eric Cray who was the MVP from 2013-2016 took 3rd spot. In conclusion, defending his SEA Games title for the 4th time and going down as the greatest ever athlete in 400 Hurdles in SEA Games History.
It was a tough call with Clinton Bautista, Melvin Calano, and Aries Toledo also winning golds at SEA Games and Lilly Carter breaking the Phi Record in 800m also performed strongly in 2019.
'
Winner – Ernest Obiena  (Pole Vault)
2. Willie Morrison (Shotput)
3. Eric Cray (400 Hurdles) 
Honorable Mention: Clinton Kingsley Bautista (Hurdles), Melvin Calano (Javelin), Aries Toledo (Decathlon), Carter Lilly (800m)
'
Pinoyathletics Men's Athlete of the Year Previous Winners
2012 Rene Herrera

2013 Eric Cray

2014 Eric Cray

2015 Eric Cray

2016 Eric Cray

2017 Trenten Beram

2018 Ernest Obiena

2019 Ernest Obiena
Report on 2018 Athlete of the Year
[SIMPLE-AUTHOR-BOX]
Capas, Tarlac

EJ Obiena celebrates his maiden golden victory in the 30th Southeast Asian Games at the New Clark City Athletics Stadium in Capas, Tarlac. Photo by: Dominic Canonizado/Sagisag PH
EJ Finally gets his Gold
Ernest John Obiena in his 4th SEA Games finally claimed the SEA Games Gold medal (Dec 7. 2019) setting the SEA Games record at 5.45m. Not bad at all for a tall skinny guy. In contrast Obiena who already had won the 2019 Asian Championship and 2019 World University Games Championship. And competed at worlds and qualified for the Olympics. The Gold was the 3rd for Philippine Athletics after Hallasgo and Knott in women's Marathon and 200m.
He had been eluded by years of the SEA Games title. His first SEA Games in Myanmar in 2013 then only 17 years of age he wound up fourth. In 2015 he took silver in Singapore behind Pooranot of Thailand. In 2017 he looked sure of gold but a leg injury in training the night before he was due to fly off robbed him of the chance to represent the Philippines.

EJ Obiena celebrates his maiden golden victory in the 30th Southeast Asian Games at the New Clark City Athletics Stadium in Capas, Tarlac. Photo by: Dominic Canonizado/Sagisag PH
SEA Games Record
Still, the 23-year-old did not give up and won very comfortably over his old nemesis Pooranot with a leap and new SEA Games record of 5.45m. Despite being far from his SEA, National Record and Olympic qualifying PB of 5.81m. EJ is the only athlete so far in Philippine Athletics qualified for the 2020 Tokyo Olympics so far with the cut off for qualification being June 30, 2019.
Having secured the win and the SEA Games record. EJ opted to rest himself up for bigger meets such as the 2020 Tokyo Olympics next year among others. And also not putting the SEA Games record up too high so he can break it again in 2 years' time.
Pooranot took silver in 5.20m, at Iskandar of Malaysia took bronze at 5.00m. EJ main opponent Amsam Ang the 2018 Asian Games bronze medalist who has a PB of 5.60m did not join the meet. 
Another youngster Hokett Delos Santos who was the 2018 SEA Youth Champion cleared 4.60m for 5th of the 5 entries. The young Hokett who is 17 years of age is coached by EJ Father and coach Emerson Obiena.
EJ now is training in Italy with Coach Vasili Petrov who was the coach of former world record holder and Olympic and World Champion the Great Sergey Bubka.
With the Legends
EJ joins the likes of the Great Fil-Heritage athlete Edward Lasquete the first Filipino athlete to reach 5 meters. Who won 3 straight SEA Games titles in 1991, 1993, 1995. And went to the 1992 Barcelona Olympics. And also the somewhat forgotten Chamberlain Gonzales who won the SEA Games title in 1983.
**Apologies News Delayed as we were not granted a media pass by Phigsoc and PSC
---
Ernest John Obiena became the First Filipino to qualify for the 2020 Olympic Games. EJ leapt 5.81m at a meet at Chiari, Italy. In doing so EJ beat the very difficult 5.80m qualifying mark for the 2020 Tokyo Olympics. EJ had won the Asian Games in 5.76m, which qualified him for the World Championships which will be staged 27 September to 6 October in Doha, Qatar.
The deadline for the 2019 World Championships is September 6. And EJ is the sole qualifier with nobody else meeting the qualification standards for the world championships. 
EJ mark of 5.81m was also a SEA Record and National Record.
At the last 3 SEA Games, the gold had eluded EJ. 4th in 2013, Silver in 2015, and out of 2017 due to an injury the week before. In 2019 EJ goes in well ahead of his nearest Thai Rival the 2018 Asian Games Bronze medalist Patasphong Amsam-Ang who has cleared 5.60m so far this year.
Based on the IAAF Rankings (best performance) EJ is ranked 10th in the world (not the IAAF Top Lists based on 3-5 performances that Pinoyathletics will totally disregard)
---
30.08.19 EJ Obiena 9th in Prestigious Diamond League Final
Continuing are reporting of the results. Which what we do KEEPING IT REAL!
In addition, here is the result of Ernest Obiena in the diamond league Final Aug 27-28 in Zurich Austria.
Finished 9th of 13 in the Diamond League Finals with a 5.58m effort.
Pinoyathletics heard he has been jumping 5.80m plus in training. Hopefully he gets that breakthrough soon as the sole qualifier for World Champs in Doha next month.
The deadline for world champs qualifying is september 6.
Obiena Qualifies for Diamond League Finals
EJ last night just missed  5.80 in Germany. Just caught it. He won and set the stadium record at 5.63.

He qualified for Diamond League finals.
The official results from a SPECIAL EVENTS-Meeting two days ago in Germany, where OBIENA won the PV with his 3rd best performance of this season.
1 Million Incentive for Winning World University Games?
Meanwhile as Per the LawPhil Act which states 1 million pesos incentive for an athlete who wins a gold medal at a world championship.
REPUBLIC ACT No. 10699
SECTION 8. Cash Incentives for Athletes. — National athletes and other athletes who are not officially or currently members of the national training pool but who have otherwise represented the country in international sports competitions, who won gold, silver and bronze medals in international sports competitions shall be entitled to cash incentives in the following amounts:
a. Individual Events
v. One million pesos (PI,000,000.00) for Asian Para Games and World-level competitions held at least every two years with at least forty-five (45) countries participating;
---
EJ Obiena scores back-to-back in Italian tilts
By Joey Villar
MANILA, Philippines — Days after improving the national mark that he himself set, Filipino pole vaulter EJ Obiena struck gold in the Citta di Padova Atletica Mondiale 2019 at the Stadio Euganeo in Padua, Italy Tuesday night, indicating his readiness to do good in the coming Southeast Asian Games.
The 23-year-old Obiena registered 5.55 meters, defeating Greek Theodo Chrysanthopoulos and Argentinian German Chiaraviglio, who both posted 5.30m.
https://www.philstar.com/sports/2019/07/18/1935683/ej-obiena-scores-back-back-italian tilts#MWxdOLWzmeCO4gZP.99
Ernest Obiena added his First Global title to his ever-growing repertoire of achievements. The 23-year-old Asian Athletics champion took the Gold Medal at the World University Games in Napoli, Italy a few hours ago. The Mark is the first Global Title ever won by a Filipino in athletics. The performance puts him ahead of the Legendary Lydia De Vega.
---
EJ Wins First-Ever Global Title in Athletics
EJ Cleared a new Personal Best and southeast Asian Record of 5.76m. In addition Improving on the 5.71m he had made at the Asian Athletics championships he had made in Doha, Qatar in April this year.
Above all the 5.71 tied the qualifying standard for the World Championships which will also be staged in Doha, Qatar. Which will be staged Sept 27 to Oct 6. 
EJ recent improvement puts him just 4cm away (5.80m) from qualifying for Tokyo Olympics. With qualifying period being May 1st, 2019 – June 29th, 2020.
5.80 was also a magic number as the meet record of Istvan Bagyula (Hungary) set in 1991 was also the meet record.
Torben Blech of Germany took silver in a new PB of 5.76m losing on countback to EJ. While Ben Broeders (Belgium) the 2017 European U23 Champion took the bronze in 5.51m.
EJ is an Engineering Student at UST. He is currently being coached by Visily Petrov. Who was the coach of Former World Record Holder Sergei Bubka.
Ernest Obiena 5.51m in Poland
1. Irena Szewińska Memorial
1 WOJCIECHOWSKI Paweł 89-06-06 (POL) 5.81
    (5.41/1 5.61/1 5.71/1 5.81/2 6.01/xxx)
2 DUTRA Augusto 90-07-16 (BRA) 5.71
    (5.41/1 5.61/2 5.71/1 5.81/xxx)
3 LISEK Piotr 92-08-16 (POL) 5.71
    (5.41/1 5.61/2 5.71/3 5.81/xxx)
4 PACHO Jose 96-01-30 (ECU) 5.51 NR
5 SKORISH Lev 96-04-12 (ISR) 5.51 pb
6 OBIENA Ernest John 95-11-17 (PHI) 5.51
7 SOBERA Robert 91-01-19 (POL) 5.41
Ernest Obiena wins street Padova Pole Vault Meet
Ernest John Obiena clinches the gold in the International Pole Vault Meeting in Padova, Italy registering 5.50m. Salti in Plaza 31.05.2019 a street pole vault meet.
In conclusion, Obiena bested the six-man field including Alione Sene of France and Meditteranean U23 Championship bronze medalist Allesandro Sinno of Italy who took the silver and bronze with an identical effort of 5.30meters.
However, EJ tried for a new record of 5.75 meters but he failed. It may be recalled that Obiena won the gold medal at the Asian Athletics Championships last April in Doha, Qatar where he set a new Asian mark and PH National record of 5.71 meters. EJ continues his training in Europe as he gears up for more IAFF Diamond League events and zeroes in on an Olympic berth.
---
May 3 Diamond League
---
23-year-old Ernest Obiena finally had the breakthrough he toiled away so many years to get. Ernest cleared 5.71m the claiming the gold medal a the Asian Championships. He Upgraded from his bronze medal two years ago in India. EJ beat a class field which included Two world-class Chinese athletes and also his Thai Tormentor Amsam-Ang who settled for 5th with a season-best of 5.51m.
Two Chinese Wei Zhang the 2015 Asian Champion took Silver and Bokai Huang took the bronze.
A New Personal Best improving on his long-standing previous mark set in 2016 in Germany of 5.61m

An Asian Championship Record

A southeast Asian Record

A New Philippines Record
Most noteworthy is EJ leap of 5.71m was the exact qualification required for the World Championships which will also be in Doha later this year. EJ will need to climb to 5.80m to Qualify for the Olympics in Tokyo.  The mark of EJ 5.71m eclipsed the Championship Record of Gregori Yegorov of Kazakhstan who leaped 5.70m in 1993 at the Asian Championships in Manila. 2 years before EJ was born. Yegorov still holds the Asian Record at 5.90m.
At the last Asian Champs in 2017, Eric Cray took the Gold in the 400 Hurdles. Eric is no participating in 400 Hurdles he is running the 100 and 200. Mark Harry Diones took silver in Triple Jump last Asian Champs two years ago, he qualified for the Triple Jump Final which is to be played later today.
It was a long journey for EJ who just came back into competition earlier in the year. Sidelined from the 2017 SEA Games due to injury a day before the games. Above all EJ was helped a lot by Dr. Casuga who came in after the Asian Games to help with EJ's focus. But of course, the man behind it all was Coach Vitaly Petrov who guided the Former world record holder and Olympic Champion Sergei Bubka among many others. 
---
EJ Posted the Following
We got it! Proud to say after all the trouble we have made it happen. It was definitely not easy! It took a lot and felt like hell sometimes. There have been times that I have lost hope. There are times that I have been frustrated. There have been a lot of heartbreaks and pain in this journey. It was a piece of work, to say the least. All that was endurable because I have been surrounded by people who believe in me. This Win is not just for me. It is for a coach, Vitaliy Petrov who has sacrificed a lot for me and pushed me and still pushing me to become better not just in sports but also in life. I owe you a lot.
This is for my Family who has been giving me endless support in what I do. This is for PATAFA who have been making ends meet. This is for the 2 people who were there with me in the doctor's office when I can't stand on my two feet, thank you very much Sir Juico and Sir Jim for believing in me and having my back when I needed it. This is to my ever so patient PT, Marvin, we have made it back. This is for all my sponsors who have believed in me, NIKE and USANA. This is to my teammates, Friends, Doctors, everyone who stayed with me thru the hard times. This is not MY win this is OUR win and I can't thank you all enough
PS: Thank you to Carla Chew, Henry Bigay, Obiena Family, Rosaassociati, Dr. Tabberah, Dr. Casuga, Ed Lasquette, Natalie Uy, Alyana Nicolas.
Ernest Obiena finished behind Thailand's Patsaphong Amsan-Ang in what would be there the first encounter for 2019. Ang the 2018 Asian Games Bronze medalist. At the 2019 Polish Indoor Championships in SZCZECIN, Poland on February 12. Ang finished 9th in 5.26m, beating rival EJ Obiena who cleared the height in 10th. However, he won on countback as he cleared on his first height whereas EJ cleared on his 2nd attempt after failing his first. Piotr Lisek of Poland won in 5.76m on countback with 11 athletes from 8 different countries represented. Wei Zhang the 2015 Asian Champion from China finished 6th in 5.46m a new season-best.
In addition, Amsam-Ang had his second meet his year with his first leap of 5.20m on February 3, 2019. He is currently training in Poland. He improved from 5.20 to 5.55m last year. And led the 2018 SEA Rankings. He will be EJ's main threat in the 2019 SEA Games.
In contrast, EJ has leaped 4 times this year already. He leads the 2019 SEA Rankings with 5.40m at the Orlen Cup on February 4.
Feb 4 – Orlen Cup (Poland) 5.40m

Feb 6 – Orlen Copernicus Cup (Poland) 5.28m

Feb 9 – Linz Indoor Meeting  (Austria) NH

Feb 12 – Polish Indoor Meet 5.26m
However Thailand Chayanisa Choemchundee missed the women's pole vault due to injury. While China's Ling Li finished 2nd behind Alysha Newman of Canada in the women both clearing 4.63m. Ling is the 2014 and 2018 Asian Games Champion.
---
Ernest Obiena 5.40 
Ernest John Obiena leapt 5.40m at the Orlen Cup at Lodz, Poland on Feb 4. Obiena finished 7th place of 10 entries. His Personal best is 5.61m set in 2016 in Germany. Obiena is currently training in Formia, Italy. In addition the 5.40 was a slight improvement on Obiena last outing in which he finished 7th at the Asian Games in Jakarta in 5.30m. Obiena is targetting the gold at the SEA Games in December where he will face the tough challenge of Asian Games bronze medalist Amsam-Ang of Thailand who leapt 5.50m in Jakarta. The Philippines will hos the 2019 SEA Games.
---
Obiena skips studies to focus on an athletic career
Published 
by Nick Giongco
Pole vaulter EJ Obiena is zeroing in on his career as an athlete by taking a leave of absence from his engineering studies at the University of Santo Tomas, the Philippine Track and Field Association (PATAFA) said.

(EJ Missed UAAP due to missing classes. It's hard to balance Engineering at UST with elite athletic commitments. He is expecting to come back to school after a year)
After a disappointing performance in the 2018 Jakarta Asian Games where he placed seventh overall, the 6-2 Obiena wants to make up and make heads turn when the country hosts the 2019 Southeast Asian Games later in the year.
(EJ leaped 5.30m at Asian Games)
In fact, the Obiena has been training in Doha the past few months under longtime coach Vitaly Petrov of Ukraine, who helped guide the likes of Olympic and world champions Sergey Bubka and Yelena Isinbayeva and reigning Olympic champion Thiago Braz da Silva.
(Off topic Petrov shares the same name as a famous Formulae 1 Race Car Driver)
Obiena used to spend some time with Petrov in Formia, Italy, but Petrov has relocated to Doha and Obiena had no choice but to follow the revered coach.
(Petrov only went to Doha for a month he is now back training in Formia, Italy)
Obiena's best leap is 5.61 meters but he hasn't been doing well as of late but is moving heaven and earth to make a rousing comeback in time for the SEA Games.
(EJ leaped 5.51m earlier in 2018, his PB of 5.61 is from 2016)
In the 2015 SEA Games in Singapore, Obiena settled for silver and was a cinch to win the gold two years later when the biennial sportsfest was hosted by Singapore.
But on the eve of his departure for Singapore, Obiena suffered an ACL injury that kept him out of the event.
EJ holds the national record of 5.51 meters, a mark superior to the gold medal-winning 5.35 meters registered by Thailand's Porranot Purahong in the 2017 SEAG.
(Please note for this year the Season Leader in Men's Pole Vault is a Bronze medalist at Asian Games Patasaphong Amsam-Ang who improved his PB to 5.55m, while we can go off SEA Games Gold Medal in 2017, Amsam-Ang in the meantime has improved from 5.40 to 5.55 in 2018).
**Comments in Red Font
Ernest Obiena 2018
[simple-author-box]
Ernest John Obiena 5.75m target to win at Asiad
Article By Judith Caringal, DZSR SPORTS RADIO
Ernest EJ Obiena admits. his 5.51 meter leap at the International Stabboc Meet in Germany is a big step to the goal of winning the gold medal at the Asian Games.
While in a conversation with RP2, EJ related "I'm quite happy with 5.51, it's a step forward, a small reward for my team's effort from the surgeon, PT, sir Jim, and Mr. Juico…this is a big step towards winning the gold at Asiad.
Especially relevant is his target is to jump 5.75 meters in his remaining stints in Europe. In conclusion that would secure EJ of a gold medal in the Indonesia Asian Games.
"A Chinese jumps at 5.71m, so a 5.75 would assure me of the gold.It would be a good fight for the gold, if I could jump close to that".
Therefore Obiena resumes training under coach Vitaly Petrov in Italy where they shall work on reaching his 18-step approach.
'Now, I'm 16 steps, 2 steps from my regular approach. My knee is not strong as it was before , need to adjust to my speed , can't have a fast run-up which can be converted into the height of my take off, we must try to mix and match everything.
In spite of a number of adjustments he needs to do…. one thing is sure, EJ is on the right track for the Asian Games set August 25-30.
EJ Obiena and his mother Jeanette talked to Radyo Pilipinas2(Dzsr SportsRadio)918khz am band.
Obiena Seasons Best 5.51m Germany
Ernest Obiena improved his seasons best to 5.51m, with his third ever best jump. Hence the 22-year-old finished 7th in the Himmelssturmer-Cup in Germany over the weekend. Most noteworthy is that EJ holds the SEA  Record at 5.61m, he also leaped 5.55m in 2016. l of August.
While his next tournament is the JUMP & FLY – 8. Internationales BAXTER Leichtathletikmeeting in Germany on June 30.  In preparation for the Asian Games in August.
While the meet was won by Raphael Holzdeppe of Germany in 5.81m the 2013 World Champion Piotr Lisek of Poland the 2017 World Silver medalist was second in 5.71m.
Also, there were also a couple of Chinese athletes at the meet third place who went to Bokai Huang who leaped 5.61m, bronze medalist at the 2015 Asian Champs. Jie Yao was 5th in 5.51m,
While EJ is ranked 4th in Asia with the 5.51m leap. Most noteworthy the last Asian Games in 2014 was won 5.55m. So he is looking a very serious medal contender for Asian Games. Especially relevant China's Changrui Xue The Asian Games Champion who was 4th in the world champs last year leads with 5.71m.
While Hussein Hisam Al Hizam of Saudi Arabia has leaped 5.63m, 5.60m, and 5.55m.
Yao and Huang of China have both leaped 5.61m
Ernest Obiena goes 5.40m in Ostrava
While Coming back from a horrific leg injury sustained just a day before leaving for the 2017 SEA Games. Ernest John Obiena ,  22. The southeast Asian Record Holder and 2017 Bronze medalist in the Pole Vault. Bounced back with a 5.40m seasons best in Ostrava at the Golden  Spike World Challenge meet.
Obiena beat one athlete and placed 10th on countback with a 5.40m effort. The starting height here was 5.20m, unlike in Rome at the Diamond League where Obiena has to start at 5.36m. 
Consequently, Obiena opened his season in March with 4.90m at the Taipei Pole Vault meet.
Hence he was initially selected with 7 other athletes for the Asian Games. As his best of
5.61m was above the 4th place of last Asian Games (5.45m) and his bronze at the 2017 Asian Championships in India (5.50m). Obiena mark of 5.40m now puts him at 5th place in the Asian Games based on the 2014 Results. While Obiena narrowly missed out on selection in the 2014 Asian Games as he was not accredited on time, so this will be his first appearance at Asian Games.
Pawel Wojcicechowski of Poland the 2011 World Champion won the event in 5.75m from
Sam Kendricks the 2017 World Champion and Scott Houston of the USA who both had 5.60m. EJ was the only Asian athlete who entered.
**More write-ups on other Ostrava Golden Spike Events Coming Soon stay tuned
---
Ernest Obiena first Filipino Athlete to Join Diamond League -Result
May 20, 2018
Ernest Obiena
www.ernestobiena.com 
Unfortunately, Ernest Obiena was not able to clear the starting 5.36m height at the Diamond League, with 3 attempts. Wishing him better luck for his next outing. 4.90m to 5.36m is quite a big leap in a short period of time.
---
South East Asian Pole Vault Record Holder Ernest John Obiena will join the world elite with the creme dela creme of world-class Pole Vaulters. Most noteworthy is that EJ is the first  Filipino invited to join the prestigious IAAF  Diamond League in Rome, The Pietro Mennea Memorial meet tomorrow. 
While the Philippines other top athletes Eric Cray participated in the World Challenge series. Also, Obiena boosts a Personal best of 5.61m from Leverkusen last July.
While Obiena was the silver medalist at the 2015 SEA Games and the Bronze medalist at the 2017 Asian Championships.
Unfortunately, an injury in training a few days before the SEA Games sidelined EJ from winning the much-coveted gold. Hence after many months of rehab EJ opened with 4.90m in Nantou at the Taipei Pole Vault indoor meet. Before heading back to Formia in Italy to train.
While In 2018 Phassaphong Amsam-Ang of Thailand the SEA Games silver medalist leads the  2018 SEA Rankings in Pole Vault.
Ronnie Baker who beat World Indoor 60m champion and World silver medalist Christian Coleman will line up against him again in the 100 Meters.
---
Obiena Opens Season
March 25, 2018
[simple-author-box]
Ernest Obiena opened his first comp back off injury with a 4.90m.  At the Taipei Indoor Pole
Vault meet at Nantou.
"Good to get through injury free. But I would have liked to have jumped better. I was surprised my speed was still there but I had difficulty controlling the pole. I will get better." said the Asian Bronze medalist. Who is preparing for Asian Games later this year.
The Jump ranks EJ 4th on the SEA Ranking lists behind Thai Umsam-Ang 5.31m, Iskandar Alwi of Malaysia 5.31m and Idan Richsan of Indonesia 4.90m.
Two other self-funded athletes Riezel Buenaventura the 2013 and 2015 SEA Games bronze medallist leapt 3.50m #5 2018 SEA Rankings and National Junior Record Holder Emily 'Siobe' Obiena 3.30m #7 2018 SEA Rankings.
---
Ernest Obiena to make a return to competitionn at the Taipei Open
March 15, 2018
[simple-author-box]
After being sidelined with an injury a day before the 2017 SEA Games. Asian Bronze Medallist in the Pole Vault Ernest John Obiena, will be returning to competition at the Taipei Open on March 21. Obiena leading up to the SEA Games had improved his southeast Asian Record to 5.61m in Germany. And was looking at improving on his 2015 SEA Games Silver and giving the country its first Gold in the Pole Vault since Edward Lasquete in 1995. But an unfortunate leg injury in training sidelined him from getting that gold.
Ernest since then has been working on his rehab via strength coach and athletic patron Jim Lafferty. The 22-year-old EJ who is a student at UST, had to skip the UAAP as he was not quite ready to compete at that stage. In the meantime, he has been clearing 5.20 up in training.  Meanwhile, one of his two Thai rivals, Amsam-Ang who was the SEA Games Silver medallist has cleared 5.31m in Thailand.
This, however, does not bother EJ too much, as he is now thinking longer term. Eyeing a medal at the Asian Games as the next step in his progress. Selection is a tricky process having missed the SEA Games. Where Gold and Silver were secured. However, EJ prior to his injury had already surpassed the Gold Mark of Asian Games which is 5.61m. He also had a bronze at Asian Champs, which would class as a top finish in a major international meet during 2017. If we are to go off third criteria, of being subject to fitness 4th place in the Asian Games which the task force is using is 5.45m. Which is well within his capability.  So on all 3 counts, EJ is very much qualified for the Asian Games. And the support he needs should be given to him so he can win a medal.
Also attending the Taipei Open will be the 2013 and 2015 SEA Games Bronze medalist Riezel Buenaventura, and EJ's younger sister Emily Obiena who holds the Philippine Junior Record, but is now a senior athlete.
---
Interesting Statistics Ernest John Obiena
[simple-author-box]
Here are some interesting Statistics on Filipino SEA Games Silver Medalist Ernest John Obiena.
For Biography Read Here
Records Broken
EJ has broken the Philippine National Junior Record 18 times from 2012-2014

He has broken the National Record 9 times from 2014-2015

He broke the National Indoor twice

He broke the National Indoor Junior twice

Currently, EJ has all four Male National Records for the Philippines Mens and Boys outdoor and indoor

He co-holds the SEA Record (not SEA meet Record) at 5.30m with Pooranot of Thailand

He set the NJR eleven times from 2011 to 2014

Still, holds the UAAP Record at 4.50m

He has the Fil-Chinese Senior and Junior Records
Career Progression Pole Vault and Highlights 2011-2015
| | | | | | | |
| --- | --- | --- | --- | --- | --- | --- |
| 2011 | 4.05m |   | Singapore | ASG |   | NJR |
| 2011 | 4.31m |   | Pasig | Fil-Chinese | .02.12 | NJR |
| 2012 | 4.42m | Gold | Pasig | Fil-Chinese | .02.12 | NJR |
| 2012 | 4.45m | 1 | Pasig | Weekly Relays |   | NJR |
| 2012 | 4.50m | Gold | Pasig | UAAP | 04.12.12 | UAAP Record, NJR |
| 2013 | 4.54m | Gold | Pasig | PNG | .05.13 | Juniors NJR |
| 2013 | 4.60m |   | Singapore | Open |   | NJR |
| 2013 | 4.75m |   | Singapore | Open |   | NJR |
| 2013 | 4.80m |   | Hong Kong | Open |   | NJR |
| 2013 | 4.90m |   | Hong Kong |   |   | NJR |
| 2013 | 4.95m | 1 | Manila | Ateneo Weekly Relay Serie | 14.09.13 | NJR |
| 2013 | 4.90m | 4 | Nyapitdaw | SEA Games | .12.13 |   |
| 2014 | 5.00m | 1 | Nantou | Indoor |   | NIR/NJ IR |
| 2014 | 5.01m | 1 | Pasig | Weekly Relays |   | NJR/NR |
| 2014 | 5.05m | 1 | Pasig | Weekly Relays |   | NJR/NR |
| 2014 | 5.06m | 1 | Pasig | Weekly Relays |   | NJR/NR |
| 2014 | 5.10m | 1 | Pasig | Weekly Relays |   | NJR/NR |
| 2014 | 5.15m | 1 | Pasig | Weekly Relays |   | NJR/NR |
| 2014 | 5.20m | 1 | Singapore | Open |   | NJR/NR |
| 2014 | 5.21m | 1 | Pasig | Weekly Relays | 28.09.14 | NJR/NR |
| 2015 | 5.15m | 5 | Nantou | Indoor | .03.15 | NIR |
| 2015 | 5.25m | Silver | Taipei | Open | .05.15 | NR |
| 2015 | 5.30m | Gold | Busan | International | 23.05.15 | NR |
| 2015 | 5.25m | Silver | Singapore | SEA Games | .06.13 |   |
*Since this was published E.J has increased the Philippines record to 5.61m
---
On the Mend – The Remarkable recovery of Ernest Obiena
January 25, 2018
Good to see the remarkable recovery of Ernest Obiena back from a terrible injury before the 2017 SEA Games in August. Which deprived him of the SEA Games Gold.
From Jim Lafferty
EJ Ernest Obiena is the national champion and record holder in Pole Vault. He is ranked in the top 35 in the world and top 5 aged 21 and under.
In late August, just prior to the Southeast Asia (SEA) Games in which he was a virtual Sure Gold Medal, he brutally tore his Anterior Cruciate Ligament in his knee in a freak accident landing off balance on the pit.
ACL tears used to be career enders until reconstructive surgery. It's still not a sure thing. No national track athlete has ever come back.
In mid-September EJ underwent surgery with Dr. Tabbarah of St. Luke's utilizing a more advanced bone graft/patellar tendon replacement. Carol Lafferty and I started his rehab a few days later, starting very light and progressing gradually. With EJ's wonderful work ethic and discipline, we have progressed steadily over the past 4 months, logging 3-4 sessions per week including yoga and visualization exercises.
EJ's strength it at an all-time high in key lifts like Bench Press with +20% gains. And importantly he is back now all the way as today's bounding drills demonstrate. Can you believe this is someone who underwent full reconstructive surgery just 4 months ago?
EJ will start vaulting again tomorrow. Look out for this young star in Summer 2018 Asian Games and 2020 Olympic Games in Tokyo.
Coach Carol Lafferty and I are both so proud of you EJ!
From Ernest Facebook Post
To everyone who has been following my recovery, I am very thankful for all of your support and encouragement. I would like to let you know that I am starting to jump and starting to feel like myself again. I made 4.70 out of 8 steps a couple of times today and I want to try and see what I can do but UAAP is not the meet to do it. I would like to let you know that I would not be participating in the upcoming UAAP to be held on February 7 in Ultra, Pasig.
I wasn't given medical clearance to compete due to many reasons but most importantly the period of recovery. 4.5 months post-operation, competing might be the worst thing to do while I am undergoing rehab. I am really upset to not be able to compete and contribute to the team. Soon the time would be right to see what I could do. I hope everyone would still watch and support our local athlete this UAAP.
For More Great News on Ernest Obiena
Please visit his official website www.ernestobiena.com
---
Ernest Obiena Archives
Ernest Obiena then and now
Ernest Obiena goes into the SEA Games with much more experience than he had 2 years ago. In 2013 EJ was 4th at the SEA Games at 18 years of age, in 2015 he improved to silver. Now he looks like he is in the driver's seat for the Gold. The last man to win a gold at the SEA Games in this event was Edward Lasquete back in 1995. He won 3 golds 1991, 1993, 1995.
Obiena comes back with a 5.61m SEA Record and Asian Bronze medal. He is an overwhelming favorite for the gold in Malaysia with his nearest rival 5.40m.
Unfortunately, EJ Obiena was sidelined by an unforeseen injury in training leading up to SEA Games was unable to participate. Pinoyathletics wishes him and his team all the best for a speedy recovery for his attempt to win the Gold at the 2018 Asian Games.
[simple-author-box]
Obiena Breaks National and South East Asian Record in Pole Vault
Aug 2, 2017
After a yo-yo up and down season. While Funds, then winning Bronze Asian Champs, then broken poles. And now another up breaking records. Despite all this Ernest Obiena leaped 5.61m to break his own SEA Record and Philippine Record of 5.55m set last year at the Singapore Open. Hence up and past the 5.60m barrier/threshold ceiling.
So Obiena leaped 5.61m at Stabhochsprung Classics in Leverkusen, Germany on 27 July 2017 Obiena and came in 4th.
Also, the leap extended his lead over his nearest rival Thai Patasphong Amsam-Ang (5.40m 4th Asian champ).  Who he will be facing in Kuala Lumpur in a few weeks at the SEA Games. Especially relevant was at the Singapore SEA Games in 2015 EJ was second in 5.25m behind Pooltong Pooranot of Thailand. Both Patasphong and Pooranot will represent Thailand in 2017 SEA Games. EJ is one of the strong gold medal candidates at the SEA Games 2017.
EJ a UST student, who is training in Italy with coach Vitaliy Petrev the former coach of pole vault great Sergei Bubka. PATAFA president Philip Juico raised money to buy the poles which cost around P225,000 for Obiena.
PV 1 Menno Vloon (ned) 5.76; 2 Shawn Barber (can) 5.71; 3 Arnaud Art (bel) 5.71; 4 Ernest John Obiena (phi) 5.61; 5 Karsten Dilla 5.61; 6 Bo Kanda Lita Baehre (99) 5.61; 7 Tomas Wecksten (fin) 5.51; Dominik Alberto (sui) 5.51; 9 Rasmus Jorgensen (den) 5.41; 10 Tobias Scherbarth 5.41; 11 Torben Blech 5.21; 12 Tommi Holttinen (fin) 5.21
Damaged poles derails Obiena's SEA Games preparation
BY THE MANILA TIMES ON
Filipino pole vaulter EJ Obiena's celebratory mood immediately turned into a big disappointment after learning his poles were broken during transit at the Fiumicino Airport in Rome, Italy.
Obiena, 21, finished with 5.50 meters behind gold medal winner Bangchao Ding of China (5.65m) and silver medalist Masaki Ejima of Japan (5.65m) in the Asian Athletics Championship last Thursday.
His surpassed the 5.40m finish of his possible Southeast Asian Games rival Patsapong Amsam-Ang of Thailand.
But on Friday, Obiena discovered that his equipment was damaged beyond repair.
This could seriously affect his preparation for the upcoming SEA Games to be held from August 19 to 13.
"I was looking forward to representing my country in the upcoming SEA Games but I'm not sure anymore," Obiena added. "I am humbly asking for your help. Any amount will be of big help."
Obiena said the cost of the eight poles and the pole bag is $7,020.
The incident is now under investigation.
JEAN RUSSEL V. DAVID
http://www.manilatimes.net/damaged-equipment-derails-obienas-sea-games-preparation/337277/
Ernest Obiena nabs Historic bronze for Philippines at Asian Championships
Bhubaneswar, Odisha, India
Article by Andrew Pirie
ATFS Statistician 
July 7, 2017
21 year old Ernest Obiena, beat a class field to take the bronze medal at the 2017 Asian Championships. Ernest Obiena leapt 5.50m to tie his seasons best in Slovakia last month.
The last time the Philippines won a medal in Athletics at the Asian Championships was 8 years ago,  2009 in Guangzhou, China where Marestella Torres took the Gold in the Womens Long Jump.
Ernest Obiena finished behind Ding Bangchao, the 20 year old China man won his first Asian title in 5.65m. 17 year old Masaki Ejima of Japan took silver in 5.65m
20 year old Thai Patasphong Amsam-Ang continued his meteoric rise with 5.40m and placed 4th. Amsam-Ang who was not a 5m jumper last year, defeated SEA Games Champion Pooranot at the Thai University Games in August then recording 5.20m. Emerging as the most likely challenger for Obiena at SEA Games. The Thais now have great depth with five men leaping over 5 meters in 2017. Obiena however is the season leader in 2017 for South East Asia with 5.50m twice this year.
Obiena has a PB of 5.55m last April at the Singapore Open which is the Philippine National and SEA Record. Last SEA Games in Singapore 2015 EJ took silver behind Pooranot Poorahong of Thailand whose leap of 5.30m is the SEA Games Record.
EJ who has been training extensively in Italy under the IAAF Program, won a Euro League meet in Slovenia recently with 5.50m also. Giving him the top 2 vaults in South East Asia in 2017.
Yes. Man i know i could go toe to toe with the asia's best. Said Obiena who is looking towards securing the SEA Games Gold medal in a few weeks in Malaysia.
Other Filipinos to compete on Day One included Marestella Torres who leapt 6.20m for fifth place. Vietnam's Bui Thi Thu the SEA Games bronze medalist in 2015. Who won all three legs of the Asian Grand Prix continued with her fine form winning in 6.54m. Actually Bui was lucky as she fouled four of her six jumps. And won by countback over V. Neena of India, with India also third in 6.42m.
SEA Games Champion Londa of Indonesia didnt not join. 36 year old Torres who was without her coach struggled to get her check mark right. She will now focus on a good performance at the 2017 SEA Games next month.
The third Filipino athlete to compete on Day 1 was Anfernee Lopena, the newly crowned National 100m Champion. Clocked 10.86 to place 4th in his heat. Lopena who was tired from travelling and had to cope with 2 false starts and nerves was well off his PB of 10.47.
Lopena performance placed him 24th in terms of time. If their are 3 semis he will qualify last to the semi finals. If there are only 2 as per the womens 100m, he will not progress through in the top 16.
19 year old Khairul Jantan of Malaysia had the fastest times in  the 6 heats clocking a SEA Leading 10.28, former Asian Champion Femi Ogunode of Qatar jogged through in 10.29.
Ernest Obiena leaps Season Best in Pole Vault to win international meet
Jun 22, 2017
21-year-old Ernest Obiena of the Philippines leaped a seasons best of 5.50m to bag first place in the international meet in Velenje, Slovenia. Hence on June 20, he improved on his seasons best and southeast Asian lead. While Obiena's previous best was 5.43m indoors earlier in the year and 5.40m outdoors more recently. His national record is 5.55m  set April 2016 at the Singapore Open.
While on the same day, Wade Van Niekirk clocked 9.94 PB to win the 100m.
Obiena who was a silver medalist in Singapore 2015 behind Poorant Pooltong of Thailand. In 2017 Ernest leads the SEA Rankings.
Malaysian SEA Games Champion and SEA Record Holder Irfan Shamsuddin of Malaysia was fifth in the Men's Discus. Hence about 2 meters away from his SEA Record.
While Obiena and Eric Cray are sure gold medalists for the Philippines. Due to how far ahead they are from everyone else in South East Asia in their events.
As a result Obiena and Cray were named in Philippines 40 team squad for SEA Games 2017
Other overseas-based athletes to make the squad include Kayla Richardson, Kyla Richardson, Zion Corrales-Nelson, Trenten Beram, Tyler Ruiz and Mary Joy Tabal.
SKUPNO – Palica, člani
Uvr. Št. AZS Priimek in ime Klub Letnik Rezultat
1 89 0 Obiena Ernest Jhon PHL 1995 5.50
1 151 3341 Renner Robert SLO 1994 5.50
3 91 0 Miranda Ruben POR 1993 5.00
4 76 0 Mandusic Max ITA 1998 4.80
4 161 16034 Tičar Ambrož SLO 1996 4.80
6 112 17331 Doberšek Rok SLO 1999 4.60
7 106 16788 Babič Denis SLO 2000 4.40
90 0 Lisek Piotr POL 1992 NM
74 0 Boni Marco ITA 1984 NM
75 0 Lama Francesco ITA 1997 DNS
226 0 Petričević Josip CRO 1992 DNS
Credit to Davian Clarke (Eric Cray's coach) for informing me of the Results
SEA Rankings 2017
2017 UAAP Highlights: Obiena defends UAAP Title in Pole Vault
Feb 11, 2017
Frequent travel to and from Europe has become routine for Ernest Obiena. While he recently set a South East Asian Indoor record in Germany (5.43m) only three days earlier.
Also he was not able this year to break his 5.46m UAAP Record. But easily defended his title. SEA Games Decathlon Bronze medalist Janry Ubas of FEU 4.50m and former Palaro Champion David Managuelod of UP 4.40m took silver and bronze.
Hence he attempted and failed his to clear 5.47m which would have beaten his UAAP Record.
Obiena is the SEA Games Silver medalist in the Pole Vault in the 2015 Singapore edition. In 2017 in Malaysia he will be aiming to go one step further and win the first Gold medal since Fil-Heritage athlete Edward Lasquette in 1995.
Related articles
Ernest Obiena new SEA and National Indoor Record behind Piotr Lisek
Feb 5, 2017
---
Ernest John Obiena has again broken his National Indoor and SEA Record in the Pole Vault with a leap of 5.43m at Potsdam. The 21-year-old who is the SEA Games Silver medalist in Singapore at the 2015 Games. Is aiming for the gold at the 2017 SEA Games in Kuala Lumpur. Obiena currently holds the national record at 5.55m.
---
Reported from H. Hubbeling
-ASIAN AA Statistician-
-Co-editor to IAAF National Records for all countries-
Dear friends,
please find below an article about a new SEA Indoor and PHI Indoor Record
as achieved yesterday in our country.
This for your kind information.
Best regards,
Heinrich Hubbeling
-ASIAN AA Statistician-
POTSDAM (GER, Feb 4): Piotr Lisek cleared as first Polish pole vaulter six meters. It happened at the 18th edition of the pole vault meet in Sterncenter Shopping Center of Potsdam. Lisek won the competition, the result is also new World lead.
He started with 543 and 563 in first, then 573 and 583 in second. First WL and national mark 593 in second and the same with 6 meters in second attempt. He is 10th ever to go over that barrier indoors. Second Croatian Ivan Horvat and third Karsten Dilla 563, fourth Florian Gaul 553 and fifth new national indoor record for Philippines Ernest John Obiena 5.43.
---
EJ Obiena breaks Pinoyathletics Indoor Record Pole Vault but still chasing Olympic Mark
Feb 21, 2016
After breaking his own national record for the tenth time. And adding nearly a full meter onto his UAAP Record with 5.46m. Hence Obiena after fulfilling his obligation with his school UST. Obiena quickly boarded a plane for his next stint half a world away. It wasn't all smooth sailing as the airline refused to allow EJ to board his poles. Until about two hours before the flight. Putting him under quite severe stress.
Obiena managed a very credible fourth place at the Asian Indoors in Doha, with a respectable mark of 5.40m. This smashed his 5.15m Pinoyathletics Indoor Record he set last year in Taiwan.
However, he is still yet to achieve the 5.70m Olympic qualifying mark for Rio.  wHILE the deadline by the organizers set on July 11, 2016. Furthermore, Obiena told an interviewer earlier he would have liked to have hit the qualification mark this month.  Therefore allowing him more time to take a break. And focus on training specifically for the Olympics in August. However, this is no longer possible as the 20-year-old is still chasing the Olympic standard.
With very few meets left the logical choice would be to return to Italy and compete in higher level meets in Europe which would be plenty. Rather than competing in the National Games and National Open which would not provide strong opponents. Also, the attention also turns towards other available meets in South East Asia.
The Winner of the Asian Indoors Huang Boki of China broke the Championship Record with a 5.75m jump. Breaking the previous mark of Daichi Sawano 5.60m (Japan).
SEA Games Bronze Medalist Iskandar Alwi (Malaysia) registered 5.00m and placed 6th.
EJ Obiena does it again 5.45m improves SEA Record
Sep 28, 2015
EJ Obiena kept his hunt for the 5.70m Olympic standard in check. While improving his recent National Record from 5.40 to 5.45m. During the weekly relays and having a near miss at 5.50m. Also, EJ Obiena who trained in Italy on two occasions continues to close in on the Olympic standard. While the mark improved on his SEA Record of 5.40m.
Such is the improvement that it's hard to advise the newspapers how many times he has now improved on the previous 5.00m mark of Ed Laquette.
Hence a new mandate was issued to divide the Pole Vault into 4m and above and 4m and below jumpers starting in the next schedule B.
While so far only Eric Cray has 'officially' qualified for the 2016 Rio Olympics in all sports. Also, Obiena who is in the high-performance program is aiming to be the next one.
Olympic Hopeful Ernest Obiena smashes SEA Record in Pole Vault
Sept 9, 2015
Filipino Pole Vaulter Ernest John Obiena who till turn 20 in December took the Gold at the Thailand Track and Field Open. Ernest just one of three athletes sent by the PATAFA to compete at the meet at Thammasat University which has long been a regular outing for Philippine Track and Field athletes.
Obiena cleared a height of 5.40m. A big improvement on his 5.30m leap in Busan Korea back in May. The mark is a new South East Asian Record and it was previously 5.30 shared with Pooranot. Obiena got back at his longtime rival Pooranot of Thailand the SEA Games Champion who was second in 5.20m.
At the SEA Games in Singapore Obiena went in with the best PB of 5.30m. But was simply outclassed by Pooranot (who happens to be the same age as EJ). Who leapt a new SEA Games Record of 5.30m. Obiena had to settle for the silver with a 5.25m leap.
Obiena spent two months training at the IAAF High-Performance Centre in Formia, Italy with his father National Coach Emerson Obiena under Vitaliy Petrov the previous coach of former world record holder Sergey Bubkha.
EJ who had a 5.00 to 5.20 improvement last time he was sent proved well worth the investment.
The Olympic standard is 5.70m, EJ will have until July 11, 2016, to make his mark and get sent to Rio. Failing that EJ will still only be 24 when the 2020 Olympics rolls around.
Photo Credits: www.ernestobiena.com
Obiena breaks SEA PV record. 'Bones-up' chances for gold at SEA Games
May 25, 2015
Aside from Eric Cray; pinoyathletics.info 2014 Rookie of the year Ernest John Obiena continues to break national records.  The men's Pole Vault which was originally held by Fil-Heritage Edward Lasquette; had been reset by EJ last year with 5.01, 5.05, 5.15, 5.20 and 5.21. 5.21. Thus setting the bar very high in a figurative and literal manner as the National Junior Record.
Breaking the 5.00m barrier was very important to the Obiena Family; Ernest's father and coach Emerson Obiena (former National Indoor Holder) made a promise to his coach the late Bill Villanueva that he would produce a 5.00m vaulter. Emerson kept his promise with EJ achieving this a few months before Coach Villauneva passed away.
Still not turning 20 still December, however no longer eligible for Junior Records like Cray and Caleb Stuart, EJ has given the Philippines not just a National Record but a southeast Asian Record in this event this year.
EJ's earlier performance this year at the Thai Open saw him defeat Sintacheewa and Alwi the SEA Games Gold and Silver medalists of 2013 with a 5.20m effort.
Obiena this year took off where he did last year by breaking not just the National Record. And also the SEA Games Records with a 5.25m leap for the silver medal at the Taipei open behind an American on 16.05.15. He raised this mark again to 5.30m at the Busan International Pole Vault meet in Korea the following week.  The previous SEA Record is held by the 2011 and 2013 SEA Games gold medalist Kreetha Sintacheewa of Thailand at 5.24m. EJ finished fourth in the 2013 SEA Games.
A Tough lead up
He had to endure hardships such as losing his scholarship at Ateneo. Consequently, he was unable to catch up with exams due to having been affected by Dengue.
And disappointment continued for EJ as he was unfairly excluded from the Asian Games despite making the qualifying standard. Hence he also missed out on World Juniors. Asian Juniors and World University Games.
Olympic pathway
However, a string of luck happened when he was first given the chance with his coach Emerson to go to Italy to train with Vitaliy the coach of the legendary Sergey Bubka. Former PATAFA President Go Teng Kok had a talk with his old friend Bubka when he visited the Philippines to help set up EJ trip to train in Italy.
EJ also was included in 'Adopt an Olympian Program' of CEO Jim Lafferty. And he was recently the recipient of three much need brand new poles for the SEA Games. While EJ goes in a firm favorite at SEA Games level but is now looking at the bigger picture of the 2016 Rio Olympics. Also it will take a leap of 5.65m to qualify for this Olympic Games.3
Ernest Obiena breaks fathers Record (March 2014)
18-year-old Ernest John Obiena leaped 5.00m to break the indoor record of his father and coach Emerson Obiena (4.93m) which was also set in Taipei. Obiena leap is a new national indoor record and ties the outdoor mark of Fil-Heritage Edward Lasquette (5.00m). The performance is recognized as an indoor but not an outdoor record.
Obiena performance also hits the bronze medal standard of 5.00m for the SEA Games. In order to qualify for the world juniors, EJ must leap 5.05m. The upcoming star who was 4th at the last SEA Games is looking for help/support so he can train at the IAAF facility in Italy an offer made to him by the legendary former world record holder Sergey Bubka.
PLEASE SHARE THIS ARTICLE