Ernest Obiena, for the third year in a row, is the Male Athlete of the Year for Pinoyathletics in 2020.
Ernest Obiena is still the only qualifier for Philippines Athletics to the 2021 Tokyo Olympics.
While no major championships were held in 2020, Ernest Obiena became the first Filipino athlete to compete at the Diamond League. He took a bronze medal at Monaco and Rome, where he was only 1 cm off his Personal best.
Ernest Obiena rubbed shoulders with some of the world's best athletes, including Mondo Duplantis.
a
Pinoyathletics Men's Athlete of the Year Previous Winners
2012 Rene Herrera

2013 Eric Cray

2014 Eric Cray

2015 Eric Cray

2016 Eric Cray

2017 Trenten Beram

2018 Ernest Obiena

2019 Ernest Obiena

2020 Ernest Obiena
a
Poznan Poland
Fresh from his win in Ostrava. Ernest Obiena will next compete in Poznan, Poland.  Tonight 11 September 2020, at the Grand Prix.
This time he will be up against World Record Holder Mondo Duplantis of Sweden and world champion Sam Kendricks of the United States, Olympic Champion and training partner Thiago Braz of Brazil, and world indoor champion Pawel Wojciechowski of Poland. 
The Men's Pole Vault at Poznan will start at 4 Pm in Poland, 10 pm in the Philippines. 

(Updates Credited: To Peter Paul Patrick Lucas of News Radyo Philippines)
All that Glitters Ernest Obiena Ostrava Grand Prix Gold in Pole Vault
September 8, Ostrava, Czech Republic
a
Despite the disappointments of a rained-out Golden Roof Challenge at Innsbruck, Austria. It was straight on the road for Ernest Obiena and his hard-working Ukrainian Coach Vitaliy Petrov.
This time it was to the Czech Republic for the Diamond League.
Ernest Obiena beat a class field at the Golden Spike Tour at Ostrava, Czech Republic. Winning on countback over Former World Record Holder Renaud Lavillenie of France.
The win marked the first Time a Filipino athlete has won a Grand Prix at this level in Athletics.
Ernest Obiena, last month became the first athlete to ever place in the Diamond League when he captured third place in Monaco.
The win for Ernest Obiena with a 5.74m was a season-best improvement on Monaco's 5.70m.
And just outside his 5.81m PB set last year in a street meet.  
Very Quality Field for Ernest Obiena
If that wasn't enough, what about Sam Kendricks, the 2019 World Champion who was third in 5.64m, or Thiago Braz of Brazil, the Olympic Champion and Ernest Obiena's training partner, 4th in 5.64m.
Braz had recently won over Ernest Obiena in the world's most OK Pole Vault meet. Pawel of Poland and Matt Ludwig of the USA, who had competed with EJ in the world's finest Pole Vault meet, were also there, Pawel 6th and Matt Ludwig failing to register a jump. 
World leader Mondo Duplantis was only missing from the meet, Won the Stockholm, Sweden edition in 6.07m.
Quite an exciting clash to come up with Ernest Obiena to take on the world record holder, perhaps at the next Diamond League meet in Rome on September 17.
EJ has already cleared the 5.80 Olympic qualifyings with 5.81. But he would like to jump over 5.80m this year and jump over 6.00m next year.
Who is the Worlds Finest Pole Vaulter Live Stream

Ernest Obiena ended up second at the World's Finest Pole Vaulter meet. An online event organized by James Michael Lafferty, CEO of Fine Hygienic Holding.
And held it on the 17th of August.
Late entry Thiago Braz the Olympic Champion, netted a $10,000 prize pool.
Each participant won a significant cash prize, which would go a long way toward their training. Braz also set a season-best of 5.70m.
After 3 fails at 5.80m.
But the surprise 2016 Olympic Champion was still a while away from his 6.03m Personal best.
Braz's training partner Ernest Obiena of the Philippines took silver in 5.60m.
Thiago Braz and Ernest Obiena'
"We wanted to help the guys out with Training. We will are be looking at doing a women's event for this and holding this event for Men again next year. Its all about connections if we had 4-mile runners willing to do this we would definitely consider putting it on" said Jim Lafferty in an interview with Pinoyathletics.
'
Results (competition not IAAF certified)
Thiago Braz (Brazil) 5.70m (seasons best)

Ernest Obiena (Philippines) 5.60m

Matt Ludwig (USA) 5.50m

Pawel Wojciechowski (POL) 5.40m
Obiena takes third at Diamond League.
August 15, 2020
Obiena took third place at the Monaco Diamond League last night.
Obiena finished third behind World Record Holder Armand Duplantis of Sweden, who dominated the meet with the first 6.00m leap of 2020. 
Ben Broeders, who took Bronze behind  Ernest Obiena at the 2019  World University Games, cleared 5.70m on his first attempt took second ahead of EJ Obiena.
EJ cleared 5.70m on his second attempt. He finished 3rd of 6 competitors and ahead of training partner and Olympic Champion Thiago Braz, who wound up 5th in 5.50m.
"I would be happy with a 70 (5.70m) or 80 (5.80m). I know I am capable of even a 5.80 right now" said EJ 2weeks ago in an online interview hosted by Pinoyathletics regarding his chances at this meet. Ernest Obiena PB is 5.81m.
;
Ernest Obiena, who had competed on the Diamond League circuit last year, is coached by Ukrainian coach Vitaliy Petrov. The Coach of Sergei Bubka. Bubka, who lives in Monaco these days, was there to reunite with Petrov and Obiena.
*Please note any media wishing to use this or any articles on our website must provide a citation to Pinoyathletics.
;
Ernest Obiena Open with 5.45m at Trieste
Ernest Obiena had his first jump of 2020 with a 5.45m Leap at the 13th Trievneto International Meeting in Trieste, Italy, a 5.45m jump.
EJ took second place behind his training partner defending Olympic Champion Thiago Braz of Brazil, who registered 5.50m. 
Ernest Obiena and Thiago Braz are coached by the legendary Vitaly Petrov (who mentored Sergey Bubka). 
EJ Obiena is the only Filipino Track and Field athlete so far to qualify for the 2021 Tokyo Olympics with a 5.81m leap; he is one of 21 athletes who have qualified outright for 32 slots.
EJ is also the reigning World University Games and Asian Champion in Pole Vault. SEA Games Champion, SEA Record Holder, and SEA Games Record Holder.
Obiena's next meet will be the Diamond League at Monaco on August 14.
*Please note any media wishing to use this or any articles on our website must provide a citation to Pinoyathletics.
---
Pinoyathletics Exclusive Media Partner on August 17 for Who is the best Vaulter online event? Livestreamed on
www.facebook.com/pinoyathletics
Ernest Obiena Competes
Aug 14 Diamond League Monaco

Aug 17 Who is the best Pole Vaulter? Online Challenge
"Who is the FINEest Pole Vaulter in the World" Competition
Talking Points
I am very excited to be one of the participants in "Who is the FINEest Pole Vaulter in the World."




competition, organized and sponsored by Fine Hygienic Holding, the leading wellness




group in the Middle East and North Africa region. 

The timing of the competition is just right.

Like everybody else in this world, I have been affected by the COVID-19 pandemic, and as a result, many major sports events have been postponed, like the Tokyo Olympics.

This year, Fine launched its Fine Guard face mask protected by a Swiss technology called Livinguard, which kills germs, including Coronavirus. When the company felt the need for sportspeople to stay protected while exercising and competing, it has developed a special

sports face mask. It's made from comfortable and very easy to breathe through material that




incorporates the same innovative technology. It can be washed and reused, and it remains




effective in killing viruses for one year. This also helps preserve the environment!

 The pandemic has indeed impacted almost all aspects of life, including sports. Still, people




are hungry for sports events, particularly live ones, and Fine is giving fanatics across the globe




the chance to watch pole vaulters as they compete live without any fee while sitting at home.

The pandemic can bring us down, and Fine motivates people and encourages




them to keep their spirits up. On a personal level, this competition is a great booster, and it's an




excellent platform for me to actually compete and prepare for the upcoming sports event




(mention name of competition), let alone the fact that we are going to get a monetary prize.

I will be competing against another two world champs. It's not going to be easy, but I am all up




for it.

The first-place winner will receive $ 20,000, and this is a generous amount. Second and third




places will get $ 15,000 and $ 10,000 consecutively.

One final message I would like to give is that we all need to be strong. This pandemic is a




universal thing.




Up.

 I encourage you all to watch this competition on August 17 at 9 am US Eastern Standard Time.


Visit finestvaulters.com to learn more, and stay tuned!
Ernest Obiena wants to join all Diamond League Meets.
Our Track Talk Tuesday had 28 Participants.  
We asked Ernest John Obiena. About what competitions he would be joining despite the COVID delays.
"I would like to join all of the Diamond League meets as all of the top guys are on the circuit. And that's who I need to compete against to get better" -Ernest Obiena.
He will be competing on August 14 at the Monaco Diamond League. And looks to compete at meets until October.  Pinoyathletics very own 'Professor' Airnel Abarra. I will be covering the Monaco Diamond League.
Pinoy Athletics Track Talk Tuesdays with Universiade, SEA Games Champion, and Olympic-bound Pole Vaulter Ernest John "EJ" Obiena
Time:

May 26, 2020, 02:00 PM Philippine Time.
2019 Napoli Universiade (World University Games) Champion Pole Vault Men

First Filipino athlete to qualify for the 2021 Tokyo Olympics

2019 Southeast Asian Games Champion Pole Vault Men
Topics:
1. Experience as a world-class Filipino Pole Vault Athlete.
2. Notes on being an athlete in a global environment with a local perspective.
Hosts:
Ph.D. Student- Doctoral School of Sport Sciences,
University of Physical Education, Budapest, Hungary
Co-founder of Pinoy Athletics
Prof. Geraldine Go-Bernardo
Head- Sports Management Council of the Philippines
How to register/join:
Download and sign-up Zoom Meetings:
Also available on Google Play (Android) and iPhone
Links:
Meeting ID: 818 0057 4186
Meeting ID: 818 0057 4186
Thus will provide a certificate of participation after the conference upon request.
For inquiries: Contact Airnel Abarra; email: [email protected]

Join the Facebook group: PinoyAthletics

Like the Facebook page: Pinoy Athletics
Profile:
Ernest John Obiena is Filipino Pole Vaulter.
He holds all four significant national Pole Vault records.
He has broken the Philippine National Record 16 times. Also holding the National Record at 5.71m and the National Indoor Record at 5.40m.
Also holding the National Junior Record 5.21m, and National Junior Indoor Record at 5.00m.
He also holds the Asian Athletics meet record and SEA and SEA Games Records.
Also, Ernest John Obiena is the first Filipino that has been given a scholarship from the International Athletic Association Federation (IAAF).
'
Ernest Obiena Sporting career
Ernest Obiena's father, Emerson, serves as his coach. Also formerly served as the former Athletics national team member.
In early 2014, for three months, EJ Obiena, with his father, was allowed to train under coach Vitaly Petrov in Formia, Italy.
First of all, Vitaly had previously coached Sergey Bubka. As a result, on July 20, 2014, at the PATAFA weekly relays held at the PhilSports Football and Athletics Stadium.
Hence Ernest Obiena broke the national record for pole vault by registering 5.01 meters.
The previous record was 5.0 meters by Edward Lasquete at the 1992 Summer Olympics in Barcelona, Spain.
Consequently, and also broke the junior national record since Obiena at that time is 18 years old. At the same time, the previous description was 4.31, set three years ago.
Most noteworthy, he later broke his own record several times in 2014 alone (5.05, 5.05, 5.15, 5.20, 5.21).
Hence by the time Obiena became ineligible for the national junior record, the record was 5.21, which Obiena set himself.
Therefore in the 2015 Southeast Asian Games, Obiena won a silver medal with a leap of 5.25 meters, his personal record.
Also, Obiena won a gold medal in the 2016 Philippine National Games Finals in Lingayen, Pangasinan, after breaking a new personal record (5.47 meters).
While having problems with a broken pole.
Ernest Obiena set a new Filipino Record in Singapore Open 2015.
The Big Highlight came through when Obiena leaped 5.50m to capture the Philippines' bronze medal at the Asian Championships.
The first medal to ever be won for the Philippines in the Pole Vault at the Asian level. At Leuvesken, Germany, he increased the Filipino record again to 5.61m.
This mark was just 9cm off the Olympic 5.70m qualifying mark.
EJ, who just missed out on the 2016 selection, will be 24 when the 2020 Olympics in Tokyo roar around.
'
Ernest Obiena Article
I am a filipino vaulter who has a dream to become a world class athlete. I am currently the National Indoor record holder and i have equalled the highest vault of a filipino which is 5.00 meters. I am aiming to qualify and join the World Juniors Championship this coming July in Eugene, Oregon
'
Hi! I am Ernest John Obiena, 18 years old. I am from Manila, Philippines. My Goal is to Qualify for the upcoming World Juniors Championship.
While under my father's supervision, I cleared 5m in Nan-tou International Pole Vault Championship this year.
Also, I placed 7th out of 26 competitors, which came from Taiwan, Malaysia, the USA, China, Japan, Australia, and Thailand.
Consequently, my performance set a new record for the National Junior indoor Record and National Men Indoor Record.
While my goal is to clear 5.05m officially before July 2014 to be the first homegrown Filipino to qualify and represent our country in the World Juniors Championship in Eugene, Oregon, USA.
We usually send "token athletes" in the World Junior Championship because we have not hit the qualifying standard yet.
Because my Personal Record as of now is 5.00m, which is just 5cm (2") of the standard set by the World Juniors Championship committee.
Also, I had been clearing this height at times during training.
Because I have to do it officially in an IAAF recognized competition and clear 5.05 officially.
Hence From June 2013 up to the present, the only Track Oval with a pole vault facility (Pasig, Ultra) in metro manila is not available for use.
Due to ongoing renovations.
Because of this, Pole Vaulting was able to continue and progress.
Furthermore, on January 12, 2014, I met the World Record Holder at my event, Mr. Sergey Bubka.
Mr. Bubka said I should apply for the IAAF's Olympic B project for athletes like me.
Also, he encouraged my coach/father to learn more and continue my training after the program in Italy.
Hence with God's blessing, I cleared 5m; I became eligible for the program and was offered a 90 days scholarship to train in Formia, Italy.
While unfortunately, my coach/father has to shoulder all his expenses in joining me.
Consequently, the IAAF program would be a big help for us to prepare for the upcoming World Juniors Championship.
And we can apply the additional knowledge we learned and help improve Pole Vaulting furthermore in our country.
I am also humbly asking for your generosity by helping us save money for my father/coach's Plane Ticket, Accommodation, Food, and Transpo. Consequently, The total amount (7300) will cover the 90-day stay in Formia, Italy, under Vitaly Petrov, the coach of Mr. Sergey Bubka.
This opportunity is infrequent, and I am most grateful for it and picked me to join this program. Also, this would help me accomplish my goal to represent my country in world-class competitions.
Thank you very much for reading.
Olympics: Ernest Obiena trains in Italy despite COVID-19 threat
Pole vaulter EJ Obiena, one of the Filipino athletes who already qualified for the 2020 Tokyo Olympics.
Is on track with his training in Italy despite the continuing threat of the coronavirus pandemic.
Italy is one of the COVID-19 hotspots, with over 4,000 deaths due to the virus.
Fortunately, Obiena has located hundreds of miles away from the badly hit northern Italy.
https://news.abs-cbn.com/sports/03/21/20/olympics-ej-obiena-trains-in-italy-despite-covid-19-threat
'Nerve-wracking': No Tokyo 2020 Olympics build-up yet for EJ Obiena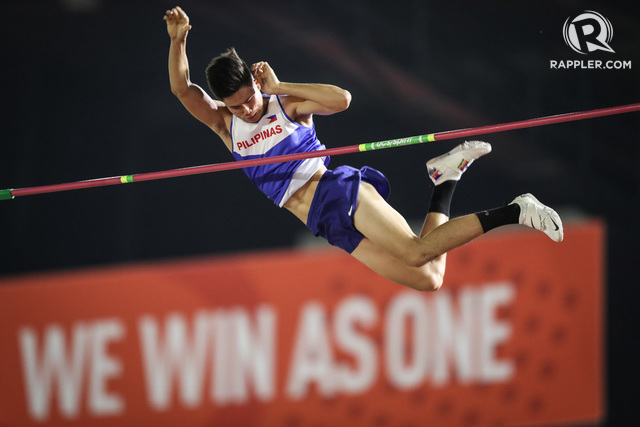 MANILA, Philippines – The escalating coronavirus pandemic has greatly affected the Tokyo 2020 Olympics preparations of Filipino pole vaulter EJ Obiena. With the cancellation of several sports events.
'
"It's a bit nerve-wracking [since I] haven't been able to compete, but we have contingency plans if things do go south," Obiena told Rappler.
.
The dream that matters most for Ernest Obiena
"My target in Tokyo is gold. Not impossible, but very difficult,''. Obiena told the Inquirer during a break in training with renowned Ukranian coach Vitaly Petrov in Formia, Italy.
The 24-year-old son of the Philippines' former pole vault idol Emerson Obiena.
Dreamed of victory in the 2019 Asian Athletics Championship in Doha, Qatar.
It came true.
Shortly after, another gold came at the 2019 Summer Universiade in Naples, Italy, with a new national record of 5.76 meters.
Just two months after the Universiade, Obiena secured the Tokyo berth by clearing 5.81 meters and surpassing the qualifying standard of 5.80 by a hair.
So to speak, in a tournament in Chiara, Italy, last Sept. 3.
Full Article Here
.
Ernest John Obiena became the First Filipino to qualify for the 2020 Olympic Games. EJ leaped 5.81m at a meet at Chiari, Italy.
In doing so, Ernest Obiena beat the challenging 5.80m qualifying mark for the 2020 Tokyo Olympics.
EJ had won the Asian Games in 5.76m, which qualified him for the World Championships, staged from 27 September to 6 October in Doha, Qatar.
The deadline for the 2019 World Championships is September 6.
And Ernest Obiena is the sole qualifier, with nobody else meeting the world championships' qualification standards. 
EJ's mark of 5.81m was also a SEA Record and National Record.
At the last 3 SEA Games, the gold had eluded Ernest John Obiena. 4th in 2013, Silver in 2015, and out of 2017 due to an injury the week before.
In 2019 Ernest Obiena went well ahead of his nearest Thai Rival, the 2018 Asian Games Bronze medalist Patasphong Amsam-Ang who has cleared 5.60m so far this year.
Based on the IAAF Rankings (best performance), EJ is ranked 10th in the world (not the IAAF Top Lists based on 3-5 accounts that Pinoyathletics will totally disregard)
Photo Gallery:
PLEASE SHARE THIS ARTICLE
LIKE OUR FACEBOOK PAGE
Born in New Zealand, worked extensively with Philippines Athletics now back living in Sydney, Australia. A retired sprinter that ran for 15 years he competed at the Philippine National Championships due to his Filipino Mother.
Started competing in the PHI NCAA, Weekly relays, Asian Grand Prix, and other meets for 12 years and was a former member of the national training pool.
Formerly a Mapua Computer science student, he earned a Bachelor in International Relations and International Business in 2007 from International Pacific College in New Zealand.
Pirie is widely known throughout the Philippine Athletics community for his advocacy and many contributions.
Among his work in the PSC he also helped recruit Eric Cray for the Philippine Team. Cray went onto win 4x SEA Games 400 Hurdles Titles and mad the Olympic Semis in the 400 Hurdles in 2016.
Has coached and help improve over 100 athletes in the Philippines.
Co-Author Pinoymiler 2010-2012
Hypersports  Assistant Team Manager 2012
Editor Pinoyathletics 2013-
ATFS Member 2013-
Run For Change Assistant Team Manager 2013
National Athletics Consultant 2013-2015
PSC Research Assistant 2013-2015
Meet Manager PSC/PATAFA Weekly Relays 2013-2015
Philippine Airforce Team Manager 2014-2015
ASEAN School Games Team Manager 2014
Head Coach Zamboanga Del Sur Sports Academy 2015-2017
ATFS Vice President 2020-