Basketball Philippines

Jack Animam takes talents to Taiwan.
July 1,  2020
Basketball Philippines
MANILA, Philippines – After setting numerous milestones in Philippine women's basketball, Jack Animam is set to grow her game in Taiwan.
For one year, the National University (NU) Lady Bulldogs star signed up to be a foreign student-athlete at Shih Hsin University. After that, she'll be taking up a Master's in Public Relations and Advertising.
"Masaya ako and super excited sa opportunity na ito," Animam told Rappler.
(I'm happy and super excited about this opportunity.)
Animam will be joining the Shih Hsin University Tigers, who are set to defend their title in the University Basketball Association (UBA) league.
The Gilas Women star is already familiar with the team as she has faced them in the past training camps with the NU Lady Bulldogs. This also paved the way for the opportunity for her to play with them.
Basketball Philippines
Celtics to retire Kevin Garnett's jersey
MANILA, Philippines — The Boston Celtics will be retiring Kevin Garnett's No. 5 jerseys; the team announced on Thursday (Friday Manila time).
Garnett spent six years with the Celtics from 2007 to 2013 after playing 12 seasons with the Minnesota Timberwolves.
Basketball Philippines
Report

Basketball Philippines

: Gilas vs. Indonesia game in danger of postponement
MANILA, Philippines — Gilas Pilipinas' FIBA Asia Cup 2021 Qualifier match against Indonesia may be postponed due to the coronavirus disease (COVID-19) threat.
According to a report from kompas.com, the Indonesia Ministry of Youth and Sports has given a directive to Perbasi, the Indonesian basketball federation, to postpone the games.
Indonesia is set to host two home games — one against the Philippines and another against South Korea.
Basketball Philippines
Basketball Philippines Ray Parks turns down Gilas Pilipinas pool invite, says Guiao
MANILA, Philippines—Gilas Pilipinas head coach Yeng Guiao has to make do with the cards he's dealt with for the upcoming Fiba World Cup.
According to reports, Blackwater rookie Bobby Ray Parks Jr. declined Guiao's invitation to join the team's Thursday practice at Meralco gym.
https://sports.inquirer.net/353930/ray-parks-turns-down-gilas-pilipinas-pool-invite-says-guiao
Basketball Philippines
[News Release] Kai Sotto, 7-foot-2 basketball prodigy Kai Sotto receives a Philippine flag from officials of #MagingMagiting campaign partners, Bounty Agro Ventures Inc.!
Kai Sotto send-off. Chooks-to-Go brand ambassador and 7-foot-2 basketball prodigy Kai Sotto receive a Philippine flag from officials of #MagingMagiting campaign partners, Bounty Agro Ventures Inc. (BAVI) and Ayala Foundation Inc. (AFI) during a send-off ceremony for the 16-year-old center who will spend the next two years in the United States to continue training towards his dream of becoming the first Filipino to play in the NBA. In his quest, BAVI president and general manager Ronald Mascariñas (2nd from right) and AFI president Ruel Maranan (3rd from left) are good luck. Joining them are AFI corporate communications senior director Celerina Rosales-Amores and Kai's father, Ervin Sotto. ###
Gonzaga beats Duke
NCAA College America
Coming into its showdown with third-ranked Gonzaga, top-ranked Duke had played five games and trailed for a total of 35 seconds — all season. And that's among the reasons the Blue Devils, after jumping Kansas in the Associated Press poll following the first week of the season, have remained No. 1 everywhere.
They've been overwhelming.
This is why what happened here at the Lahaina Civic Center on Wednesday was so surprising. Gonzaga jumped Duke the way Duke normally jumps teams — shot 64.5 percent from the field in the opening 20 minutes, including 60.0 percentage from 3-point range, took a 16-point lead early in the second half, and survived a wild flurry late to record an 89-87 victory and secure the Maui Jim Maui Invitational title.
Folks had been wondering when Duke would first lose.
---
https://sports.inquirer.net/319478/philippines-falls-iran-stays-top-3-group-f-world-cup-qualifiers
---
Basketball Philippines Things get physical between Gilas and Iran.
Already backed by a hostile crowd inside the Azady Gym, Iran could impose its physical play style on Gilas Pilipinas, Thursday evening.
And it resulted in two players from the Philippine side getting bloodied up.
The first casualty was Beau Belga.
The burly bruiser was hit by an inadvertent slap to the nose by Nik Khahbahrami with 1:02 left in the first half. Belga came out with a bloody nose.
In the ensuing quarter, it was Marcio Lassiter who was cut.
https://tiebreakertimes.com.ph/tbt/things-get-physical-gilas-iran/127411
Basketball Philippines
Entering this contest, this batch of Gilas Pilipinas was a mystery to Iran. However, the Iranians were hiding something else as well.
Basketball Philippines

Gilas falters late in highly physical affairs against Iran.
In a highly physical game, the Philippines could not contain Iran's shooters late, falling 73-81, Thursday evening at the Azady Gym in Tehran, Iran.
Gilas' third loss in the tournament, falling to 5-3 in the 2019 FIBA World Cup Asian Qualifiers.
Basketball Philippines
Basketball Philippines

The Scores
Philippines 73 – Standhardinger 30, Cabagnot 9, Belga 7, Lee 6, Almazan 5, Thompson 5, Lassiter 4, Taulava 3, Sangalang 2, Norwood 2, Erram 0, Maliksi 0.
Iran 81– Khahbahrami 21, Mashayekhi 19, Kazemi 11, Arghavan 8, Yakhchali 7, Jamshidi 6, Mirza 5, Hassanzadeh 4, Haddadi 0, Davoudichegani 0, Mozafarivanani 0.
Quarterscores: 22-21, 38-40, 59-63, 73-81.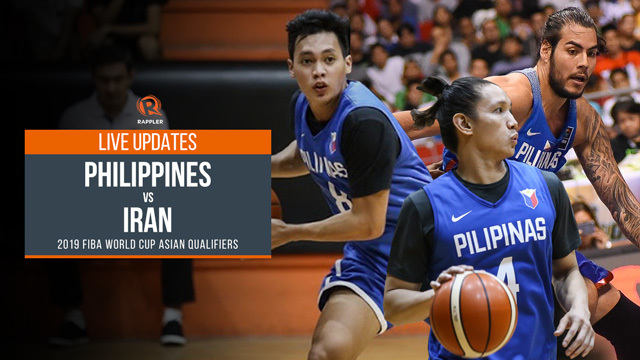 Basketball Philippines
LIVE UPDATES: the Basketball Philippines vs. Iran – FIBA World Cup Asian Qualifiers 2019
MANILA, Philippines – Just as it's about to resume its bid for a World Cup berth with a retooled lineup, Team Pilipinas' mettle will already be tested when it squares off against Asian powerhouse Iran.
The Filipinos will be in hostile territory. It tries to pull off an upset against the Iranians in Group F of the fourth window of the 2019 FIBA World Cup Asian Qualifiers at the Azady Gym in Tehran on Thursday, September 13.
The Philippines, which ended the first round of the Qualifiers with a 4-2 record, looks to become the first team to defeat Iran, which boasts a 5-1 card on its own turf.
Full Article and Live Updates Here
https://www.rappler.com/sports/by-sport/basketball/gilas-pilipinas/211809-updates-philippines-iran-game-september-13-2018
Basketball Philippines
Basketball Philippines
Basketball Philippines

Christian Standhardinger joins Gilas in Iran.
The two teams face off at 7 p.m. (8:30 p.m. in Manila) with Guiao and his troops looking to build on the 4-2 win-loss record coach Chot Reyes' Gilas squad posted in the first round of the FIBA World Cup qualifiers.
FIBA.com
MANILA, Philippines — Coach Yeng Guiao opted for the hard-working Christian Standhardinger over the spitfires Stanley Pringle and tapped five new faces to backstop the Jakarta Asiad veterans as Team Philippines resumes its quest for a berth in the 2019 FIBA World Cup against West Asian power Team Iran at the Azady Gym in Tehran tonight.
The two teams face off at 7 p.m. (8:30 p.m. in Manila) with Guiao and his troops looking to build on the 4-2 win-loss record coach Chot Reyes' Gilas squad posted in the first round of the FIBA World Cup qualifiers.
Basketball Philippines
2018

Basketball Philippines

vs. Iran in FIBA qualifiers match today
September 12, 2018 | 8:03 pm
A NEW-LOOK Team Pilipinas takes the cudgels for the country in the FIBA World Cup Asian Qualifiers, taking on Iran today at the start of the second round of the competition.
With the majority of its previous roster serving their suspension following a brawl with the Australian team on the final playdate of the first round of the tournament on July 2, the Philippine national team looks to regroup and propel its push some more in their collision with the host team at 8:30 p.m. (Manila time) at the Azady Gym in Tehran.
Coaching the Philippine Basketball Association-backed Team Pilipinas is Yeng Guiao, taking over from suspended coach Chot Reyes.
http://www.bworldonline.com/phl-vs-iran-in-fiba-qualifiers-match-today/
Basketball Philippines
Basketball Philippines

Team Pilipinas big men face a tall order
by Ernest Hernandez
The Samahang Basketbol ng Pilipinas (SBP) officially release the Team Pilipinas 12-man roster against Iran for the FIBA World Qualifiers that did not include 7-footer Greg Slaughter due to injury.
Even before the announcement, the big men of Team Pilipinas considered the possibility of dealing with Iran's big men, particularly the 7-foot-2 Iranian center Hamed Haddadi.
With Slaughter out, head coach Yeng Guiao is expected to rotate Christian Standhardinger, Poy Erram, Asi Taulava, Beau Belga, and Raymond Almazan.
Iran's Hamed Haddadi goes up for a layup against Andray Blatche of Gilas Pilipinas during their game in the 2015 FIBA Asia Championship in Changsha, China. | FIBA.com. Basketball Philippines
Basketball Philippines
Basketball Philippines

out to deal with Iran's ceiling, bench depth
Rick Olivares (philstar.com) – September 12, 2018 – 1:20pm
MANILA, Philippines – Come to Game Day 7 of the ongoing Asian Qualifiers of the 2019 FIBA World Cup on Thursday; Iran will try to defend its home turf against its old foe from the Far East that has been nipping at their heels for the last 10 years — the Philippines.
Iran is in the midst of a youth movement; However, when they started the Asian Qualifiers on a dour note, they had to call in some old heroes.
With only Oshin Sahakian, the veteran of Iran's past dominance in the regional competition, it was enough as they fell rather embarrassingly to neighboring Iraq, 66-74, in a match played in Amman, Jordan, since the latter's current state doesn't allow the safe playing of matches there.
In the final frame, the Iraqis did well in the even-numbered quarters, outscoring Iran, 19-12.
Although Iran bounced back at home in Tehran with a 65-39 blowout of Qatar, in their second window, they brought back old reliables Samad Nikkhah Bahrami and Hamed Haddadi, who each scored 21 and 20 points in another laugher, 54-75, in Astana, Kazakhstan.
Source: https://www.philstar.com/sports/2018/09/12/1850899/team-philippines-out-deal-irans-ceiling-bench-depth
Basketball Philippines
China survives Clarkson,

Basketball Philippines

with 82-80 squeaker.
MANILA, Philippines — Powerhouse China turned back a pesky Philippine side, 82-80, in Group D play of the 2018 Asian Games men's basketball tournament Tuesday night at the Gelora Bung Karno Basketball Hall in Jakarta, Indonesia.
The Chinese, who sat squarely on the driver seat for the first three quarters, leaned on Zhou Qi to cushion against the hastily-assembled Filipino squad.
However, the Philippines, bolstered with National Basketball Association cager Jordan Clarkson, patiently chafed on the lead. In the second frame, the Filipino-American led a blistering outing that saw the Nationals hold down perennial Asian Games hoops champions to just 16 points.
https://www.philstar.com/sports/2018/08/21/1844643/china-survives-clarkson-team-philippines-82-80-squeaker
Basketball Philippines
Japanese basketball players in prostitute 'disgrace.'
By Nolan Philips
Four Japanese basketball players have apologized for bringing "disgrace" to their nation after being kicked out of the Asian Games to pay prostitutes for sex.
The regional Olympics was hit by scandal after spotting the players in a notorious red-light district of the Indonesian capital Jakarta wearing their national jerseys last week.
The expulsion of Yuya Nagayoshi, Takuya Hashimoto, Takuma Sato, and Keita Imamura will become a major embarrassment for Japan, which will host the Tokyo Olympics in two years.
"I deeply apologize for our careless act that has brought disgrace on not only basketball fans However also all of the Japanese people," Sato told a news conference. 
Nagayoshi, wearing a black suit and tie, said he "can't imagine" playing basketball again.
Japan Basketball Association chief Yuko Mitsuya said it would wait for a special committee of lawyer's reports before formally punishing the four.
"I just feel a sense of shame," said Yasuhiro Yamashita, the head of the Japanese delegation to the Asian Games, the world's second-largest multi-sport event.

"We deeply apologize and intend to give the athletes thorough guidance from now on," he told reporters in Jakarta.
https://www.irishexaminer.com/breakingnews/sport/japanese-basketball-players-in-prostitute-disgrace-863658.html
Dallas Mavericks: Ding Yanyuhang to play for China in 2018 Asian Games
Mavericks trade former Baylor star to Clippers and sign China's Ding Yanyuhang
https://parkercitynews.com/mavericks-trade-former-baylor-star-to-clippers-and-sign-chinas-ding-yanyuhang/10283/
Basketball Philippines
Basketball Philippines

Jordan Clarkson can't wait to learn Gilas' 'fun style of play.'
JAKARTA — With around three minutes remaining in the third quarter of the Philippines' 96-59 win over Kazakhstan in the 2018 Asian Games, cheers erupted from the Philippine bench. Nobody had made a spectacular play on the court; a player of it was causing the commotion.
Jordan Clarkson was finally here.
After days of uncertainty surrounding his stint, the Cleveland Cavaliers guard arrived in Jakarta from Los Angeles and was brought straight to the basketball arena in the sprawling Gelora Bung Karno Sports Complex on Thursday.
Since his plane touched down at around the same time the Philippines-Kazakhstan game tipped off, there was no way he could make it in time. However, we could argue that his mere presence inspired his teammates and raised their level of play. From the moment he took a seat behind the team bench, the Philippines outscored their opponents 38-19.
Clarkson's arrival culminated a complicated series of events that drew in the NBA, the Samahang Basketbol ng Pilipinas, the Philippine Olympic Committee, and the Asian Games organizers, as the NBA initially refused to give the go-signal to his participation. However, in the end, the league relented, and here we are.
Basketball Philippines
Underprepared

Basketball Philippines

still impresses vs. Kazakhs.
JAKARTA – Though short in preparation and workforce, the Philippine quintet made quite an impression in its initial showing in the 18th Asian Games men's basketball competition, fashioning out a dominant wire-to-wire 96-59 victory over a hapless Kazakhstan side at the GBK Basketball Hall here Thursday.
Stanley Pringle came out with a sterling performance in his debut as a national player. Simultaneously, Christian Standhardinger, James Yap, Paul Lee, and Chris Tiu had their solid showings in their return to the national squad, leading the Philippine 5 to a smashing first outing Jakarta meeting.
Gabe Norwood, Raymond Almazan, Poy Erram, Beau Belga, Maverick Ahanmisi, and even 45-year-old reserve center Asi Taulava put in their share; the Nationals carved out the important victory that all, however, assured them of a spot in the knockout round (Final Eight).
Read more at https://www.philstar.com/sports/2018/08/16/1843129/underprepared-team-philippines-still-impresses-vs-kazakhs#13UwYSZqrShhDItA.99.
And on that note, how awesome was Guiao. He should replace Chot Reyes as a national coach permanently cause she showed even with depleted numbers, he still pulled off a win against highly favored Kazakhstan. And not just a win a pummelling. I bet nobody thought we would win by that much over Kazakhstan. Purely awesome the Philippines ' very own Chiang Kai Shek and master of strategy. I bet a copy of the Art of War by Sun Tsu was in his bag.
Basketball Philippines
Basketball Philippines
Basketball Philippines

Asian Games: Win over Kazakhstan an 'answered prayer,' says Guiao
JAKARTA—Philippines head coach Yeng Guiao expected a "really close" game against Kazakhstan in his team's debut in the 2018 Asian Games. Instead, his players put on an explosive performance in an impressive rout.
With Stanley Pringle firing 18 points, James Yap turned back the clock for a 12-point performance. Paul Lee catching fire late to finish with 10 markers; the Philippines overpowered Kazakhstan, 96-59, to open their campaign at the Basket Hall at the Gelora Bung Karno sports complex.
The wire-to-wire triumph was a truly sensational performance from the hastily assembled squad, which is now virtually assured of a spot in the basketball competition's quarterfinals.
"It's answered prayers 'yan ano. Millions of Filipinos were praying for us, and the Lord just blessed us with a really nice win," Guiao told reporters after their huge victory.

"We expected a really close game, and a rugged, physical game," said the coach of their match-up against the fourth-placers in the 2014 edition of the Asian Games.
Basketball Philippines
Basketball Philippines

Asian Games: Guiao downplays physicality of Kazakhstan game
Basketball Philippines Guiao, staff, commended for a great job in the Asiad opener.
JAKARTA – National coach Yeng Guiao and his able staff elicited praises for getting Team Philippines to play as a cohesive unit from a mere 10-day preparation.
Team Philippines cruised to a 96-59 victory over Kazakhstan to kick off their Asian Games bid on a high note.
 "Gilas showed great chemistry in such a short time. Offensive system was in rhythm and defensive coverage was solid. They played with so much cohesion that you have a feeling that they've been playing for a long time," said Samahang Basketbol ng Pilipinas president Al Panlilio.

"Credit to coach Yeng Guiao for preparing the team to be mentally strong and focused," Panlilio also said.
Meanwhile, Guiao deflected his staff's praises, including Caloy Garcia, Ryan Gregorio, and Ford Arao.
https://www.philstar.com/sports/2018/08/16/1843135/guiao-staff-commended-great-job-asiad-opener
Basketball Philippines
Team Philippines outplays Kazakhstan for rousing the Asian Games opener.
Denison Rey A. Dalupang (philstar.com) – August 16, 2018 – 12:50pm
MANILA, Philippines — Success in the first order of business.
Team Philippines mounted a blistering 12-2 run in the first three minutes against Kazakhstan, looking to dictate the tempo.
Three quarters later, they were still enjoying that and more. The Filipinos went on to put themselves squarely on the driver's seat through their defense and hustle as they enjoyed an erratic shooting by their foes en route to a 96-59 victory in Group D action of the Asian Games men's basketball tournament at the Gelora Bung Karno Basketball Hall in Jakarta, Indonesia, Thursday afternoon.
Stanley Pringle, a first-time member of the national quintet, scattered 18 points to score the Filipinos.
James Yap, who last logged a national team tour nine years ago, chimed in 12 more to help in the scoring effort.
https://www.philstar.com/sports/2018/08/16/1843114/team-philippines-outplays-kazakhstan-rousing-asian-games-opener
Basketball Philippines
How the first all-pro 1990 Dream Team brought back Asian Games glory
When FIBA formally allowed professional basketball players in international competitions in 1989 with its "open basketball" ruling, the exciting prospect was really witnessing the best cagers to play for their country came true.
And this became such welcome news for the Philippines, given the dearth of competitiveness in world basketball. A case in point was the 1989 Southeast Asian Games, wherein the Philippines lost the gold for the first time in the biennial cage meet to hosts Malaysia after an embarrassing 99-107 loss.
Something had to be done, and the FIBA ruling could not have come at a better time.
Basketball Philippines
"Dream Team"
The country's basketball governing body, the Basketball Association of the Philippines, immediately forged a deal with the PBA to send only the best Philippine team for the next major international tilt, the 1990 Asian Games in Beijing.
Thus, the Philippine "Dream Team" consisted of an all-star dream selection of PBA players, half of which became part of the PBA's 25 Greatest Players lists several years later.
The team consisted of active players who were making waves in the PBA at that time, including Mon Fernandez, Hector Calma, Samboy Lim, and Yves Dignadice of the Grand Slam-winning San Miguel Beermen, Chito Loyzaga, Dante Gonzalgo, and the late Rey Cuenco of the most popular Anejo Rhum squad, Benjie Paras and Ronnie Magsanoc of Formula Shell, Allan Caidic and Zaldy Realubit of Presto Tivoli, and Alvin Patrimonio of Purefoods Hotdogs.
Jerry Codinera was originally part of the final lineup However had to beg off due to a bout with hepatitis and was replaced by Realubit. Nelson Asaytono and Paul Alvarez were named alternates. Unfortunately, however, we're unable to join the team in Beijing.
And the coaches? No less than living legend Robert Jaworski of Anejo Rhum was named head coach, with Norman Black of San Miguel as his assistant.
Read Full Article Here:
https://sports.abs-cbn.com/basketball/news/2018/08/16/how-pro-dream-tht-back-asian-games-glory-45675eam-broug
Basketball Philippines
Kobe Paras to lead Philippines' Olympic 3×3 quest

MANILA, Philippines — Kobe Paras is set to embrace a bigger role in basketball.
Donning the country's tricolor in many iterations of the FIBA 3×3 in the past, the second-generation cager will be helming the specialized format's national basketball program as it targets the Olympiad two years from now.
"Kobe will be the face of 3×3 basketball. So the campaign will be headed by Kobe. Tapos hahanap Tayo ng mga makakasama ni Kobe," Ronald Macariñas, the backer of the program, said.
https://www.philstar.com/sports/2018/08/15/1842897/kobe-paras-lead-philippines-olympic-3×3-quest
---
Guiao puts a premium on the opener.
A rematch with the Kazakhs to settle an old score for the Nats
This could change the whole picture.
With unconfirmed reports of the Cleveland Cavaliers Jordan Clarkson getting the green light at the last minute from the National Basketball Association to play for his mother's birth country in the Indonesia Asian Games, national coach Yeng Guiao is buckling down to work on their opening game against Kazakhstan.

View the draws for Basketball at Asian Games
Clarkson withdraws from Batang Gilas
by Ernest Hernandez
According to sources, the final push to include Jordan Clarkson in the Gilas Pilipinas Asian Games roster suffered a big blow after the NBA did not clear him to join the competition.

The NBA has cited no reason. However, the Cleveland Cavaliers guard has been in trade rumors and could be why he didn't get the nod while Houston Rockets' Zhou Qi was allowed to play for China.
TNT Katropa's Don Trollano will instead replace Clarkson for the final roster spot. After that, the team will head out to Indonesia on August 12.
Aussie assistant coach blames Chot Reyes for World Cup violence.

July 4, 2018
MELBOURNE, Australia — Australia assistant 

coach 

and former NBA star Luc Longley has accused Philippines coach 

Chot Reyes of inciting the violence that marred a World Cup qualifying match between them on Monday.
The former Chicago Bulls star described the bench-clearing brawl, which saw 13 players, including four Australians, ejected from the match as the worst he had seen on a basketball court.
Longley, who has been praised for his efforts to protect Australian player Chris Goulding from a large group of Philippines players, said Reyes had called on his players during a timeout to "hit somebody, put somebody on their arse."
The Dark Knight
"Everyone knows that if you've got a brother, you're going to fight." —Liam Gallagher. It was a forgettable Monday night.
You could call it one of the darkest nights in the history of Philippine basketball. Our beloved Gilas Pilipinas is getting into an ugly brawl with the visiting Aussies. We lost the game that is already lost even before the fight happened. The game eventually ended up with Australia winning by default against the Philippines, our country.
Link to Full Article by Joey Villar
NBA DRAFT 2018
EVERY PICK
ROUND ONE
1. Phoenix Suns – Deandre Ayton — C
2. Sacramento Kings – Marvin Bagley III — PF
3. Atlanta Hawks – Luka Doncic (traded to Dallas Mavericks) — PG
4. Memphis Grizzlies – Jaren Jackson Jr. — PF
5. Dallas Mavericks – Trae Young (traded to Atlanta Hawks) — PG
6. Orlando Magic – Mo Bamba — C
7. Chicago Bulls – Wendell Carter Jr. — C
8. Cleveland Cavaliers – Collin Sexton — PG
9. New York Knicks – Kevin Knox — SF
10. Philadelphia 76ers – Mikal Bridges (traded to Phoenix Suns) — SF
11. Charlotte Hornets – Shai Gilgeous-Alexander (traded to LA Clippers) — PG
12. LA Clippers – Miles Bridges (traded to Charlotte Hornets) — SF
13. LA Clippers – Jerome Robinson — SG
14. Denver Nuggets – Michael Porter Jr. — SF
15. Washington Wizards – Troy Brown Jr. — SF
16. Phoenix Suns – Zhaire Smith (traded to Philadelphia 76ers) — SF
17. Milwaukee Bucks – Donte DiVincenzo — SG
18. San Antonio Spurs – Lonnie Walker — SG
19. Atlanta Hawks – Kevin Huerter — SG
20. Minnesota Timberwolves – Josh Okogie — SG
21. Utah Jazz – Grayson Allen — SG
22. Chicago Bulls – Chandler Hutchinson — SG
23. Indiana Pacers – Aaron Holiday — G
24. Portland Trail Blazers – Anfernee Simons — SG
25. Los Angeles Lakers – Moritz Wagner — PF
26. Philadelphia 76ers – Landry Shamet — PG
27. Boston Celtics – Robert Williams — PF/C
28. Golden State Warriors – Jacob Evans — SG/SF
29. Brooklyn Nets – Dzanan Musa — SF
30. Atlanta Hawks – Omari Spellman — PF
ROUND TWO
31. Phoenix Suns – Elie Okobo – PG
32. Memphis Grizzlies – Jevon Carter – PG
33. Dallas Mavericks – Jalen Brunson – PG
34. Atlanta Hawks – Devonte Graham – PG (traded to Charlotte Hornets)
35. Orlando Magic – Melvin Frazier – SF
36. New York Knicks – Mitchell Robinson – C
37. Sacramento Kings – Gary Trent Jr. – SF (traded to Portland Trail Blazers)
38. Philadelphia 76ers – Khyri Thomas – SG (traded to Detroit Pistons)
39. Philadelphia 76ers – Isaac Bonga – SF
40. Brooklyn Nets – Rodions Kurucs – SF
41. Orlando Magic – Jarred Vanderbilt – PF (traded to Denver Nuggets)
42. Detroit Pistons – Bruce Brown – SG
43. Denver Nuggets – Justin Jackson – SF (traded to Orlando Magic)
44. Washington Wizards – Issuf Sanon – PG
45. Brooklyn Nets – Hamidou Diallo – SG
46. Houston Rockets – De'Anthony Melton – SG
47. Los Angeles Lakers – Sviat Mykhailiuk – SG
48. Minnesota Timberwolves – Keita Bates-Diop – SF
49. San Antonio Spurs – Chimezie Metu – C
50. Indiana Pacers – Alize Johnson – PF
51. New Orleans Pelicans – Tony Carr – PG
52. Vincent Edwards – SF (traded to Houston Rockets)
53. Oklahoma City Thunder – Devon Hall – PG
54. Dallas Mavericks – Shake Milton – PG (traded to Philadelphia 76ers)
55. Charlotte Hornets – Arnoldas Kulboka – SF
56. Philadelphia 76ers – Ray Spalding – PF (traded to Dallas Mavericks)
57. Oklahoma City Thunder – Kevin Hervey – SF
58. Denver Nuggets – Thomas Welsh – C
59. Phoenix Suns – George King – SF
60. Philadelphia 76ers – Kostas Antetokounmpo – SF (traded to Dallas Mavericks)
#NBADRAFT
Narvasa: Will he be fired?
Narvasa Photo Credit: Philstar
By Noli Cortez
November 02, 2017
EXPECT fireworks when the PBA Board convenes today for a special meeting to decide whether Chito Narvasa will stay as commissioner.
The meeting starts at 8 a.m. at the league offices in Libis, Quezon City, with all 12 members expected to be present.
A long, arduous discussion is expected, with Narvasa's backers reportedly ready to defend him by asking for a vote of confidence, which requires eight votes.
"The process should drag on," noted one governor who requested anonymity, pointing out the question would center on whether it's simply renewal or a case of firing.
According to Al Panlilio, Meralco's representative to the PBA Board, the league's best interest is the primary consideration.
"We are all thinking about what's best for the league, and his performance we would gauge the last two years as commissioner," Panlilio told Malaya-Business Insight yesterday.
Narvasa came under heavy for approving the controversial trade between Kia and San Miguel Beer viewed as too lopsided. The trade gave the already loaded Beermen the rights to Picanto's top pick overall, which we used to tab Fil-German Christian Standhardinger.  In return, Kia got some role players and a future draft pick.
READ THE FULL ARTICLE HERE:
 a
2017 SEA Games
Aug 20, 2017
Overall the Philippines has dropped to 7th place, with Vietnam now on 2 golds. Yesterday, the Philippines had 1 Gold from Mary Joy Tabal in her emphatic win in the Women's Marathon. The Philippines is on 1 Gold, 2 Silvers, and 2 Bronzes. A far cry from its 50 gold medal target.
The Philippines did have someone wins, with the Perlas Pilipinas beating Singapore 88-54 in the Women's Basketball.
Aug 17, 2017
Basketball
MANILA, Philippines (UPDATED) – Gilas Pilipinas bowed once again to their bitter rivals South Korea, 118-86, in the quarterfinal knockout round of the FIBA Asia Cup 2017 in Beirut Lebanon on Wednesday, August 16 (Thursday, August 17, Manila time).
Basketball Philippines 
Scores:
Philippines (86) – Romeo 22, Standhardinger 17, Pogoy 12, Castro 11, Aguilar 7, Wright 6,
Jalalon 5, Abueva 2, Fajardo 2, Almazan 2.
Korea (118) – Oh 22, Kim S. 21, Kim J. 15, Lee S. 14, Lee J. 11, Park 9, Choi 9, Heo 9,
Yang 5, Jeon 3.
a
PLEASE SHARE THIS ARTICLE
LIKE OUR FACEBOOK PAGE
Andrew was elected Vice President of the Association of Track and Field Statisticians in 2020 after being a member for 7 years.
He has worked as a PSC Consultant and Research Assistant from 2013-2015, Consultant, and Sprint Coach at Zamboanga Sports Academy from 2015-2017.
Current editor and chief of Pinoyathletics.info, and has recently done consultancy work for Ayala Corp evaluating the Track and Field Program.
Coaches Sprints, Middle and Jump events he is working towards his Level 3 Athletics Australia Coaching Certification in Sprints and Hurdles.
He can be contacted on [email protected]
You can find more information on Coaching here
http://www.pinoyathletics.info/coaching-2/